RN to BS Online
Overview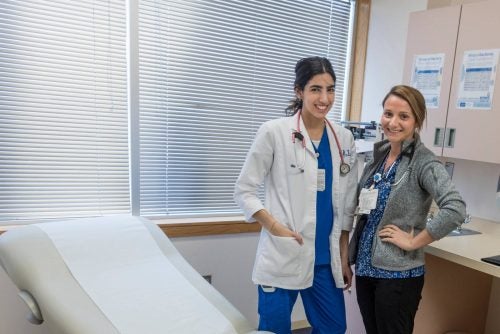 We are not currently admitting students to the RN to BS online track.
Even though it's a clinical practice, nursing is a creative profession. It requires you to communicate clearly and convincingly, to ask the right questions and draw upon your imagination to find answers and solve problems. URI's RN to BS in Nursing Online prepares you to become the kind of big thinker that 21st century healthcare needs.
You'll get unique practical knowledge and a research-based, science-focused academic experience that can only be offered by one of New England's most recognized universities. You'll gain valuable insight from the same professors who teach on our campus, and who, despite the time they contribute to their community and to advancing nursing as a whole, are incredibly accessible when you need them.
Learning from top educators and pioneering researchers, you will gain a strong foundation of practical knowledge that prepares you to understand and manage the complexity of our changing healthcare environment. The perspective and discipline offered by this program give you a whole new way to practice nursing — one that prepares you for a career as a health educator and advocate fully empowered to make a real impact on the health of your community.
Bachelor of Science Program Outcomes
Knowledge for Nursing Practice:

Integrate knowledge from liberal arts and sciences to enrich nursing knowledge and practice.

Person-Centered Care: Implement compassionate person- centered, evidence-based nursing care to clients across the lifespan and spheres of care.
Population Health: Use principles of social justice, advocacy, and collaboration to promote equitable care at the local, state, national, and global level.
Scholarship for the Nursing Discipline: Engage in scholarly inquiry and critically appraise research as the foundation to deliver evidence-based nursing and ethical practice.
Quality and Safety: Integrate quality improvement principles to promote a culture of safety and ensure cost-effective, value- based care.
Interprofessional Partnerships: Collaborate with clients, health professionals, and other colleagues in the provision of safe, effective care across the spheres of care.
Systems-Based Practice: Coordinate and utilize resources across the healthcare system and in the community to provide safe, quality, equitable and value-based care to diverse populations.
Informatics and Healthcare Technologies: Effectively use healthcare technology to improve interprofessional communication and enhance person- centered care delivery.
Professionalism: Uphold professional conduct and standards, prioritize personal development through self-reflection, and embody a nursing identity grounded in ethics and social justice for exemplary practice.
Personal, Professional, and Leadership Development: Foster nursing wellness and exemplary care by applying self-care principles, embracing a spirit of inquiry, and cultivating an ethical nursing identity through self-reflection and feedback.
Contact our office at RNBSonline@uri.edu or 401-874-5303
Curriculum
The University of Rhode Island RN to BS in Nursing online gives you the skills you need to advance the nursing profession and promote health throughout your community. The curriculum, which is science-focused and research intensive, features 24 core credit hours that can be completed in as few as 15 months. Combination of on-campus and online course curriculum is not permitted for the RN to BS online program.
The RN to BS program requires 120 credits for graduation. Credits from other accredited colleges are accepted; however the student must complete at least 30 credits at URI in order to earn the B.S. degree in nursing. Students can transfer up to 75 credits at the associates level and 15 credits at the baccalaureate level for a potential total of 90 transfer credits. A grade of C or better is required in all starred (*) courses (see curriculum sheet below). A minimum 2.2GPA is required to progress through the program and to graduate.
Contact our office at RNBSonline@uri.edu or 401-874-5303
Curriculum Sheets