The dedication follows a generous gift to the University from one brother, paying tribute to the memory of another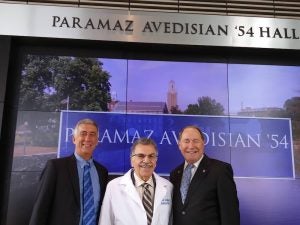 The University of Rhode Island community gathered today to honor the memory of College of Pharmacy alumnus Paramaz Avedisian '54, whose lifetime represented a legacy of professionalism in pharmacy and philanthropy in the community.
University officials joined with members of the Avedisian family to cut a ceremonial ribbon officially rededicating the building on the Kingston campus in front of the building that houses the College of Pharmacy. The building, following legislative approval last summer, is now officially known as Paramaz Avedisian '54 Hall.
The dedication comes after a transformative gift to the College of Pharmacy from the late Paramez Avedisian's brother, Edward Avedisian. A performing symphonic musician, university teacher, noted philanthropist, and 2016 recipient of an Ellis Island Medal of Honor, Edward Avedisian has made a $5 million gift to support the College. It is his brother's philanthropy, however, that he wants remembered by URI pharmacy students for generations to come.
"Paramaz's philosophy was, 'If you can't be an advocate for the patient, why be a pharmacist?," Ed Avedisian recalled. "It is this spirit of helpfulness that we want this hall to embody. I want students who walk through the door to have a direct connection to him."
The building dedication further connects Paramaz Avedisian and his family to the University, according to College of Pharmacy Dean Paul Larrat. The gift from Edward Avedisian will help fund a variety of projects in the College of Pharmacy, all working toward the goal of carrying on Paramez Avedisian's legacy through education and innovation. Part of the gift will go toward a new Paramaz Avedisian Endowed Chair in Medicinal Organic Chemistry.
"We're naming this building after one of our own," Dean Larrat said. "That's important to people; it resonates with folks. We have a long-standing relationship with the family. The Avedisians have been very generous and supportive."
The impact of Edward Avedisian's gift will be felt not only at the College of Pharmacy but also across the University as a whole, noted to URI President David Dooley.
"Edward's gift will have far-reaching effects on our students and faculty," President Dooley said. "We will be better positioned to improve education and research at the College of Pharmacy for generations of students, all while keeping the memory of Paramaz — his scholarship and humanitarianism — at the forefront of our minds."
Paramaz Avedisian was known not only for his advocacy for patients but also for his charity, born in the help he himself received to continue his studies at URI in the 1950s. His father passed away while he was in college, leaving Paramaz unable to pay for his studies. On the verge of dropping out, Paramaz received a gift he would never forget from Tom Simpson, then owner of Simpson's Pharmacy in Pawtucket, where Paramaz worked at the time. Simpson took Avedisian under his wing, and paid for the remainder of his tuition.
Paramaz Avedisian wasted no time paying that gift forward, regularly tutoring a legally deaf classmate who was having difficulty in class. Avedisian would go on to great professional success as owner of Wheaton Pharmacy in Washington, D.C., for 30 years, and help countless other people — routinely disregarding a patient's inability to pay, and, in the spirit of Tom Simpson, once paying for a man's medications so his son could continue college. He always considered one of his greatest achievements to be helping his deaf classmate graduate.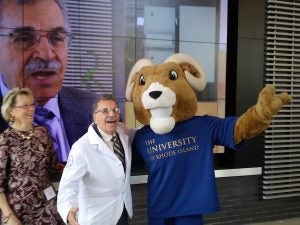 His legacy of helping the University continues with his brother's gift to URI, which follows previous gifts to the University, including one that established the Paramaz Avedisian Pharmacy Scholarship.
Lil Breul O'Rourke, president of the URI Foundation, said, "Edward's generosity in honoring his brother will make it possible for students and faculty to carry on Paramaz's distinguished legacy through innovation and teaching. We are grateful for his support of the University and proud of the impact Paramaz made, as a URI alumnus, in the pharmaceutical industry and his community. His legacy will live on at URI for generations to come."
The newly named pharmacy building on the Kingston campus opened it 2012. The voter-supported $75 million center for pharmaceutical teaching and research consists of 144,000 square-feet of classroom, research, lecture, common and administrative space on five floors, which serves as home to the nearly 1,000 undergraduate, graduate and Pharm. D. students that make up the College of Pharmacy.