Simulator trains Pharmacy students in real-life critical care
A patient in the ICU is suffering from a protracted asthma attack that is not responding to standard treatment. What medication will help this patient breathe and raise his oxygen levels? How should this medication be administered to save the patient's life?
Pharmacists, who are increasingly involved directly in critical patient care, must make such decisions quickly, under the most stressful of circumstances, and be able to respond immediately if medications don't have the desired effect. It's one thing to plan a course of treatment ahead of time; it's quite another to make the critical call in the moment, when the patient's life hangs in the balance. There is simply no way for pharmacy students to know how they will respond when faced with such an emergency.
Until now.
URI College of Pharmacy students can now train to respond to critical pulmonary situations, and see the success — or failure — of their decisions in real time, without risk to the patient. It's all thanks to the TestChest, among the most advanced pulmonary simulators in the world — and the only one in the United States, according to Pharmacy professors Clint and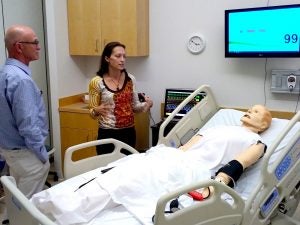 Amanda Chichester.
"It simulates, basically, a human lung. It's more realistic; it simulates how a person would actually breathe," Clint Chichester said. "Other machines just breathe; they don't respond to multi-faceted treatment."
The TestChest, connected to an animated mannequin in the Sim Lab on the first floor of Avedisian Hall, is more advanced than any other simulator in the country. The German design was originally intended to help anesthesiologists achieve the proper balance of opiates and benzodiazepines by monitoring the patient's brain waves and lung function, along with other vital signs.
The TestChest is widely used in Europe to train advanced healthcare practitioners but has not entered the US marketplace until now. The Chichesters' personal relationship with inventors Wolfgang and Matina Heinrichs — another husband and wife team, who run the AQAI Simulation Center in Mainz, Germany — paved the way for URI to serve as the device's only American home.
But rather than use it in an operating room, the Chichesters saw an opportunity to train pharmacy students in real-life critical care. Other simulators will make a mannequin breathe but will respond to changing circumstances only after variables are inserted into a computer program — and often with a lengthy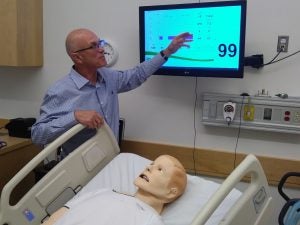 delay. The immediacy of a real-life emergency can be lost. The TestChest allows students to virtually medicate the patient using a tablet, and the simulator responds in real time just as the human body would.
"It teaches both normal cardio-pulmonary physiology and a wide range of lung disease. If you don't understand normal physiology of the lung, it's difficult to recognize when a lung is not functioning properly," Amanda Chichester said. "It's particularly important for pharmacy students learning how drugs impact multiple body systems. They can see in real time how specific treatments affect the body. It puts students in situations that are as close to reality as we can get."
Clint and Amanda Chichester traveled to Germany over the summer to pick up the simulator, and have introduced it to students for this semester. Students can monitor such vital functions as heart rate, oxygen and carbon dioxide levels, air flow, respiration and more, including BIS ­— Bispectral Index, an indication of the depth of anesthesia — and see the changes different medications make to the body. Students practice making decisions in stressful situations, and learn how to interpret and respond to changing circumstances rapidly, without the life-or-death consequences.
"I'd much rather our students have those challenges in the simulation lab than in a patient's room," Amanda Chichester said. "The TestChest allows us to teach complex heart-lung interactions in real time, so students gain a better appreciation for the challenges associated with managing a patient with significant pulmonary disease. I believe we're preparing them at a higher level."