Paige Ethier recognized for "excellence in public health pharmacy" by US Public Health Service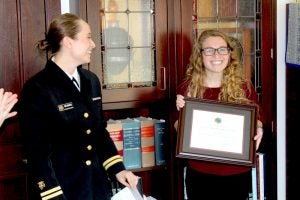 URI College of Pharmacy student Paige Ethier has earned national recognition for her commitment to public health and her work with underserved populations from the United State Public Health Service.
Lt. Jessica Newman presented the P4 student with the Excellence in Public Health Pharmacy Award in Pharmacy Dean Paul Larrat's office Wednesday, April 18. The Public Health Service presents the annual pharmacy award in part to increase the public's awareness of the critical role pharmacists play in promoting healthy communities.
"This year's awardee is recognized for her extensive work with medically underserved populations, including carrying out educational campaigns for underserved residents of Rhode Island, staffing immunization clinics and health screening for incarcerated inmates and developing educational programs for native American tribes," Lt. Newman said. "Pharmacists are trusted healthcare providers who have the capability to produce a positive impact on our nation's health."
Ethier, a South Kingstown, RI, native, has traveled around the country working with Native American tribes, including the Cocopah and Quechan tribes in Yuma, Arizona, and the Cherokee tribe in Oklahoma. She worked as a pharmaceutical intern, helping run immunization clinics, screening for such conditions as diabetes and hypertension, and spreading public awareness to prevent the conditions. She has also done similar work in prisons around the country, she said. She hopes to continue in a career in public health after graduating in May.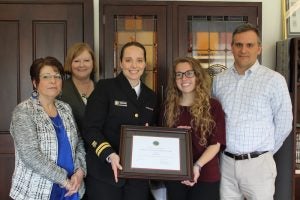 URI College of Pharmacy Professor Brett Feret nominated Ethier for the award to recognize the work she has already done toward that goal.
"I know she is committed to public health," Feret said. "Looking at all she's done this year and all the work she's done in the public health sphere, it just made sense to nominate her."