Collaboration between public and private universities is the first in the nation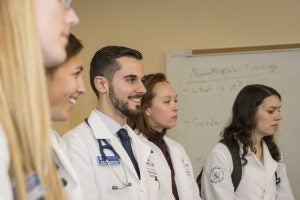 The University of Rhode Island and Johnson & Wales University will offer a dual-degree in pharmacy and physician assistant studies beginning in fall 2018, the first such collaboration between public and private universities in the country.
URI Doctor of Pharmacy (PharmD) students can apply to Johnson & Wales' Master of Science in Physician Assistant Studies (MSPAS) program after completing their fourth year of the six-year pharmacy program. Applications began in the spring.
Officials at both schools said the program breaks new ground in public-private partnerships and greatly expands career opportunities for students in the health professions.
"Bridging the public-private university divide is significant," said Donald H. DeHayes, URI provost and vice president for academic affairs. "This partnership benefits both institutions and ultimately the health and well-being Rhode Islanders."
Up to two URI students will be accepted to the program each year, and upon completion, will graduate with a degree from each university: Doctor of Pharmacy from URI and Master of Science inPhysician Assistant Studies from Johnson & Wales.
"This dual degree will certainly set these graduates apart form their peers, and provide unique opportunities for pharmacy students interested in direct patient care," said E. Paul Larrat, dean of URI's College of Pharmacy.
Christine M. Collins, director of pharmacy for Lifespan, a Rhode Island-based nonprofit health system, sees great value in the dual-degree offering. "This partnership reflects what we see every day in the health care setting," she said. "Medications are an important, but complex, component of care to help many of our patients get healthy and stay healthy. In our hospitals and ambulatory practices, pharmacists and physician assistants work together to give our patients the expertise of both. Graduates of this new program will have combined that expertise, strengthening the delivery of care."
Johnson & Wales became the first university in the state to offer a master's degree in physician assistant studies when it launched the program in 2014. Today, more than 70 students are enrolled.
"Pharmacy studies and physician assistance studies are a good educational fit, and graduates holding both degrees will bring a high-level of expertise to their care," said George Bottomley, a URI alumnus and dean of the College of Health and Wellness at Johnson & Wales, which offers the MSPAS degree.
There is great need for highly skilled health-care providers who can assess, diagnose, treat and prescribe, not only in Rhode Island but around the country. Graduates holding dual degrees could help fill that need in hospitals, private practices, community-based health centers and rural and underserved areas.
Pharmacy students will begin their physician assistant studies the summer after they are accepted to the program. The students will then alternate pharmacy and physician assistant coursework and clinical practicums, attending school year-round. The dual degree will add one year to the PharmD timeline. URI students will pay tuition to Johnson & Wales while enrolled in MSPAS clinical rotations: Ambulatory Care, Family Medicine, General Medicine and Internal Medicine. Two PharmD clinical rotations, Community Practice and Institutional Practice, will count as electives toward the master's degree.
The only other dual pharmacy and physician assistant degree programs in the country are offered at the University of Washington and the University of Kentucky, both public institutions. For more information on the dual degree program, contact Program Coordinator Celia MacDonnell at 401-874-9290 or cmac@uri.edu.