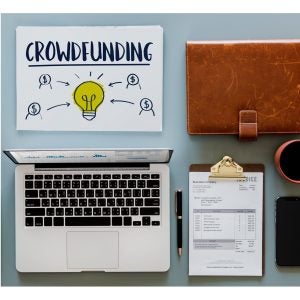 With crowdfunding on the rise, what used to be a novel way to raise money is now a normal, often necessary, part of starting a business. In 2015, crowdfunding supplied more than $34 million to businesses, according to a Massolution Crowdfunding Industry 2015 report. The reality is that, when comparing the amount of capital raised, crowdfunding is poised to overtake venture capital.
But along with the popularity of crowdfunding comes increased competition for eyeballs and dollars. Campaign success rates in 2015 ranged from 31% at the high end (Kickstarter) down to just 11% (RocketHub), according to market research from the London-based firm The Crowdfunding Centre. To successfully raise funds, plan for three to six months of hard work before launching, and pay attention to these 11 elements of a successful crowdfunding campaign.
1. Frontload your campaign
"Campaigns that get more than 30% of funding in the first week are more likely to succeed," reports Fundable. This means that you need to have backers in place before your campaign goes live. Whether it's family members, previous business partners, or a select members of your entrepreneurial inner circle, gain a commitment prior to launch and follow up personally to ensure they follow through. Many businesses privately launch their campaigns to a select group of likely backers and only open their campaign to the public when they have reached their 30% funding goal. While friends and family are willing to support you early on, the rest of the world wants to feel like they are joining a successful movement.
2. Tell a great story
Facts are great (and necessary), but not necessarily inspiring. If you want backers to open their wallets, you need to connect with them on a deeper level by sharing a great story. What problem does your product or campaign solve? How will it help your reader, or someone you engage them to care about? Why is it special? Make your potential backers eager to open their wallets to be part of that story.
3. Make a great video
Crowdfunding platform Indiegogo reports campaigns with pitch videos raise four times as much money as those without. It needs to be well-edited and scored, well-paced, and inspiring. Think of it as a visual representation of the great story you're telling, and no matter how awesome the story is, poor production will be distracting. An unprofessional video may send the message that you're not serious about your business.
4. Look professional from all angles
Along with your high-quality video, don't cut corners on any element that speaks to your overall professionalism. Spend time and/or money on excellent photography and written copy. You should also have a cleanly designed and functional web page with more information, or at least a landing page. Skimping on presentation will cause backers to wonder if you care enough to make good use of their money.
5. Be detailed and specific
Remember, your goal isn't just to shout "Give us money!", but to invite people to help you fulfill a particular goal for your business. Maybe it's getting a first production run, launching a new location, or adding a feature to your base product or service. You need to break down where the money you're asking for will go in this specific phase of your business. On that note, set your goals as low as possible for each campaign. With some crowdfunding platforms, you won't receive any money if your campaign isn't successful, so save your dreams of profits for down the road. Your numbers — and your goal — need to be concrete, realistic, and focused on solving the single stated problem you've just engaged your backers in caring about.
6. Reward your backers for the risk they are taking
"Perks" is crowdfunding speak for what your backers get for backing you. Your campaign is a chance to give backers a discount, to reward them for the risk they're taking by sending you money for something that doesn't exist yet. Set prices so you don't lose money, but below MSRP so that everyone who decided to "wait and see" will pay a higher price. Also consider intangible perks, such as behind the scenes updates, public mentions, or even lunch with a team member.
7. Offer multiple price points
Give your fans many ways to become a "backer." For some campaigns, a small, intangible perk for donations of $1-5 are appropriate, but be careful to offer enough perks at higher amounts to entice people to invest more. Many campaigns offer price points in the hundreds, and some are even able to offer options in the thousands, depending on their target backer. But no matter your range, more price points means more types of people will be able to be part of your campaign.
8. Spread the word
Use every method available to get news of your campaign out. Social media posts for your followers, sponsored updates (paid ads on social media), and email blasts are three great ways to get started. Build interest before the campaign starts, so that people are ready to jump in when you launch, and post or email regular updates leading up to a strong finish. Each update should include a strong call to action to encourage the reader to take the next step, whether it's to share the post, comment, or click to donate.
9. Communicate
Along with regular social media updates, don't neglect to communicate with backers on the campaign platform itself. Once people have committed their money, keep them in the loop and keep them excited by sharing updates, announcements, and milestones about campaign progress, as well as replying to comments, answering questions, thanking donors, and sharing personal messages from the team. Indiegogo reports that successful campaigns on their platform post at least four updates and add 12 new perks after the launch, which often entices backers to commit more funds. Remember to share information about fulfilling the actual goal (making the product, taking the funded step) after your campaign is funded.
10. Prepare for the end
Prior to launch, this means ensuring that you're not over-promising on what you can deliver. Following the campaign, this means continuing to devote time, energy, and resources to communicating with your backers with regular updates about timelines for action, thanking them, actually delivering product, and keeping them engaged as a prime audience for your next campaign.
11. Study successful campaigns
A great way to learn what makes a successful campaign is to look through previous successful ones. Nest Houseware, an RISBDC client based in Providence, raised $35,530 through donations from $15 to $700 during a successful crowdfunding campaign in 2013. Whaler's Brewing, another RISBDC client, raised $3,229 more than they asked for during their successful crowdfunding campaign.
Crowdfunding is a lot of work, but can be extremely rewarding for the financial and marketing gains. Depending on your business and skill set, it may make more sense to pursue a small business loan through a bank or private lender. If you want to know more about crowdfunding, this Forbes article gives an overview of the top six crowdfunding sites. Are you considering crowdfunding?