Experiential Education
URI students can participate in Experiential Education (Ex Ed) through a variety of methods, both in and outside the classroom. Explore the resources listed below and don't forget to schedule an appointment with your Career Education Specialist via Starfish to discuss further.
---
Credit-bearing Experiential Education
URI Ex Ed courses are separated into the following 11 Experiential Education types (for coding and tracking). In addition, we have also included Career Planning which can provide a helpful foundation for future experiential learning engagement. Explore each type below to see a list of URI courses and access examples and resources.
---
Co-Curricular Experiential Learning
In addition to course-based Ex Ed, you can participate in powerful Experiential Learning through numerous programs and employer opportunities. Check out the following resources to start, but know that this list doesn't include every opportunity! Look for experiences that offer leadership, skill development, networking, and opportunities to problem solve, work as part of a team, and explore your community and world!
"Critical reflection is a process specifically structured to help examine the frameworks that we use to interpret experience; critical reflection pushes us to step outside the old and familiar and to reframe our questions and our conclusions in innovative and more effective terms." (Eyler, Giles, Schmiede, 1996)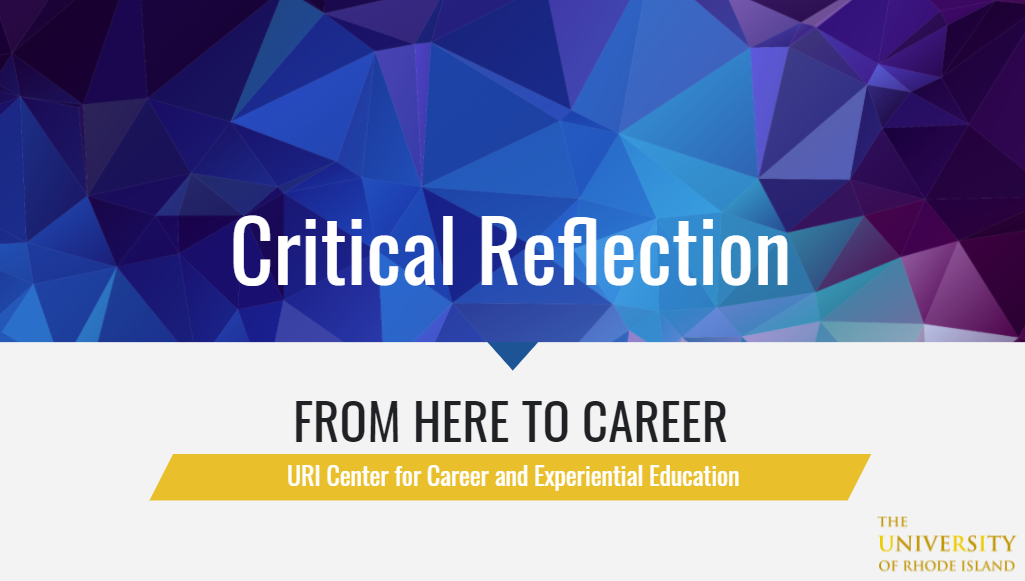 Explore Experiential Education Resources
URI Experiential Education
URI Ex Ed opportunities are considered "experiential" when they include*:
Significant time dedicated to focused and thoughtful critical reflection activities, both individually and with classmates/ peers (check out our Critical Reflection Module)
Scaffolded engagement in active learning that encourages original and creative thinking, curiosity and questioning, application of ideas (experimentation), trial and error, and reflection
Opportunities to synthesize and connect active learning with current and prior learning and theory, create new knowledge and theories, and apply original concepts to new experiences
A faculty/instructor serving as an expert mentor and guide on the experiential journey, allowing the student to be a co-leader of the experiential journey and creating opportunities for ownership and accountability
Who should I contact if I have questions specific to my major or college? Students – please reach out to your faculty member or college/major program coordinator. Faculty/Staff and Employers – please see the list of contact below. Not sure where to start? Feel free to reach out to Sarah Miller.
College/Department
Name
Title
College of Arts & Science
Brianne Neptin
Experiential Education Coordinator
College of Business
Lynne Finnegan
Experiential Education Coordinator


College of Engineering
Lauren Creamer
Coordinator, Career Services & Employer Relations


College of Health Sciences
Kristin Fratoni Souza
Courtney Mackey Wilbur
Experiential Education Liaison
Kinesiology Internships & Experiential Education Coordinator
College of Nursing
Amy Creed
Donna Donilon

Experiential Education Coordinator
Clinical Programs Coordinator

College of Pharmacy
Brett Feret
Erin Edmonds
Clinical Professor, Director of Experiential Education
BSPS Experiential Education Coordinator
College of the Environment and Life Sciences
Sarah Puckett
Undergraduate Research and Experiential Learning Coordinator


Office of Civic Engagement & Action
Alicia Vignali-Henry
Community Engagement Coordinator
Office of Teacher Education, School of Education
Betsy Palazzetti
Coordinator, Field Placements
UCAS Center for Career & Experiential Education
Kimberly Stack
Sarah Miller
Director, Center for Career & Experiential Education
Assistant Director, Experiential Education
URI Cooperative Extension
Kaylyn Keene
Sejal Lanterman
Energy Fellows Program Coordinator
RI Agriculture and Food Systems Fellows Program Coordinator


Experiential Learning Theory
We learn best when we are, as John Dewey says, 'stuck' with a challenge or 'struck' by a new or unusual experience. The Center for Career & Experiential Education (CCEE) is committed to supporting URI students, faculty, and staff in designing and/or engaging in experiential learning courses or co-curricular opportunities that utilize the Experiential Learning Theory (ELT). Experiential Learning (EL) engages students in the learning process through authentic experience, reflection, thinking, and acting (Kolb). EL provides students with direct experience through which they can continually use analytical skills and reflection to challenge previous assumptions, and apply and test new ideas.
Drawing on the work of John Dewey, Kurt Lewin, Jean Piaget, William James, Carl Jung, Paulo Freire, Carl Rogers and others, David Kolb's ELT is built upon six propositions:
1. Learning is best conceived as a process, not in terms of outcomes.
2. All learning is relearning.
3. Learning requires the resolution of conflicts between dialectically opposed modes of adaptation to the world.
4. Learning is a holistic process of adaptation to the world.
5. Learning results from synergetic transactions between the person and the environment.
6. Learning is the process of creating knowledge.
External Experiential Resources
The following resources are external to URI & CCEE. Opportunities presented here are not vetted by CCEE staff but can provide great hands-on experience. Reach out to your Career Education Specialist with questions.
---
Additional External Employment Resources