Sowing the Seeds of Identity: Vanessa García Polanco's Path to Washington, D.C. and Back Again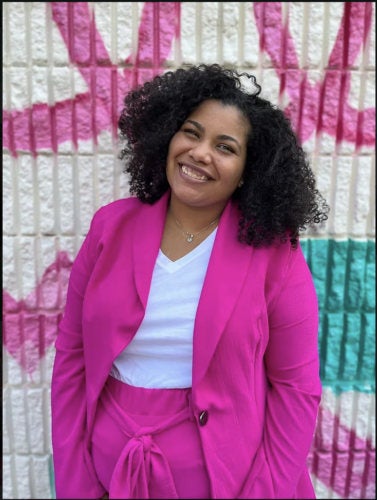 While navigating the undergraduate environmental and natural resource economics major, alum Vanessa García Polanco found a path deeply rooted in her identity.
"Coming from one of the biggest agricultural hubs—the Dominican Republic—and with my dad being a farmer, my mom said, 'we took you out of the countryside, but we didn't take the countryside out of you,'" García Polanco shared.
Now as the policy campaigns co-director at the National Young Farmers Coalition, García Polanco acts as an advocate inside the federal government to make sure federal programs are accessible to young and BIPOC (Black, Indigenous, and People of Color) farmers using a racial equity lens. García Polanco says her upbringing in the Dominican Republic along with experiences both inside and outside the classroom at URI put her in a position to advocate for agriculture on a national level.
"My father and so many of the Dominican and global south farmers I saw growing up are my inspiration of how hard it is to do his job, they remind me of how lucky we are to have a government that is responsive to its farmers' needs," García Polanco said.
Having an inside look at the agricultural practices and systems in the Dominican Republic from her father gave García Polanco an understanding of the risks that come with farming, as well as the benefits of having individuals like herself in roles of advocacy and support for farmers. Through on-campus experiences at URI, García Polanco found a passion for government policy and management.
"I was in a student senate for four years, which is the best experience that I had because it really framed my interest in wanting to shape society and institutions, which is what I get to do now at a Federal level," she said. "My job involves talking to members of Congress and USDA in the White House about policy priorities between farmers and government officials."
As the first Latina Afro-Dominican in this position, García Polanco is proud of her background and recognizes the ways she can embrace her identity in her role. "Our food system is 80% women of color, from farmworkers to the food service industry and beyond, but how many women of color do you get to see shaping our food system policy in D.C.? It's not a lot," Polanco explained. "So I embrace the idea that this progressive food justice movement is building that pipeline so more people who are affected by the issues can shape the policies."
García Polanco describes her time at URI as a "green light" that helped catalyze her career. "I feel like when you are an immigrant and you move to the United States, you just have all this energy and are trying to find belonging and community," García Polanco reflected. "URI did that for me, allowing me to find a community of like-minded people that care about the environment, about organizing the student body, and about giving back."
García Polanco recalls the support she received from URI and is thankful for the programs that helped her out of her comfort zone. In particular, she cites her internship with URI's Cooperative Extension as a powerful growth experience. "I was a freshman helping write federal grants and reporting on them, which is crazy," she said. "But I had a great mentor who supported me and saw the potential in me."
García Polanco says she was able to build critical project management skills by leading the Annual East Farm Festival, which brought 5,000 people to URI's demonstration and research farm. Another event she organized was a BIPOC festival of plant knowledge at the Providence Greenhouse and Botanical Center. Both experiences, García Polanco said, helped her grow as an advocate and organizer—skills that helped to lay a foundation for her career.
Her story comes full circle as García Polanco joins URI as an advisor for the Agriculture and Food Systems Fellowship Program. The program, García Polanco said, is part of a rededication to the University's land grant tradition—something for which she and her fellow URI students advocated. "Many people say I was a part of the cohort of students that pushed URI to do that," García Polanco said, "especially for the food systems fellowship." While the fellowship didn't exist during her time at URI, García Polanco's devotion to agriculture and food systems was part of a movement aimed at providing more opportunities for students like herself. She is also a member of the Rhode Island Farm Service Agency State Committee and in receiving this nomination in Rhode Island, it felt like coming home and allowed her to reconnect with her roots.
Beyond being an advisor for the Agricultural and Food Systems Fellowship, García Polanco is always open to hearing from URI students and helping them figure out how to pursue their passions. There is a world of opportunities and García Polanco understands the importance of committed mentorship, especially in fields that lack diversity. Appreciative of the opportunities she has had, and ready to help prepare the next generation of advocates, García Polanco is excited to connect with others and offer guidance in finding roles rooted in identity.