User Accounts

User accounts are required to access all computers and printers in the College of Engineering computer labs. User accounts are provided to all University of Rhode Island engineering students. Your user account is made up of your first initial followed by your last name. Please note that all user accounts expire each May and are renewed each September. For help establishing an account or recovering a lost password, please visit the lab operators in Kirk 203.
Labs
The ECC consists of the main lab in Kirk 203, the Discovery Center computer classroom in Kirk 203C, computer classrooms in Kirk 203B and Kirk 212, as well as the Perdikakis conference room. The ECC also maintains the software and log in systems for the Fascitelli CAE computer classrooms 130 & 135, the OCE computer lab in Middleton 117, as well as the CHE and CVE capstone labs in Fascitelli CAE 120.
Software
The ECC provides access to engineering software in the computer labs that would be prohibitively expensive for students. This includes the following:
Solidworks for computer aided design (CAD)
Abaqus for finite element analysis (FEA)
ASPEN for chemical process simulation
Multisim for circuit design
Labview for programming with instrument control and data acquisition
Minitab for statistical analysis
Simio(1) for industrial simulation
Umberto for life cycle analysis
MathCAD, Polymath, TechPlot and Engineering Equation Solver for engineering mathematical calculations and data display
The Bentley suite of tools for Civil Engineering simulation, which are also available for Civil Engineering student's personal devices
Microsoft Office, Matlab, Mathematica, and AutoDesk software which are also available for students' personal devices
other software as the faculty require for engineering courses
Students at URI have access to install software on their personal devices. The software is generally restricted to academic use only. This means you cannot use it for commercial gain. Make sure to read the rules on each site for their current policies. The software available include the following:
In addition to the above tools available to all students, College of Engineering students and faculty also have access to additional software to install on their personal computers. This includes:
Microsoft Windows Pro
Microsoft Project Pro
Microsoft Visio Pro
Microsoft Visual Studio Pro
Stop by the ECC with a flash drive (usually 8-16GB works best) and we can get a copy of the media for you.  Then email ecc-help-group@uri.edu to get a key.  Other Microsoft software may be available, ask at the ECC if you have a specific request.
Printing
Undergraduate engineering students may print, free of charge, up to 200 black-and-white sheets and 50 color sheets per semester. Plotter printer is available after training. Printing credits are automatically tracked by the network. Credits do not roll over from semester to semester.
The center offers the following printers:
Cirdan – Black & White laser printer, paper sizes 8.5″x11″ to 11″x17″, double sided
Gil-Galad – Black & White laser printer, paper sizes 8.5″x11″ to 11″x17″, double sided
Elrond – Color laser printer, paper sizes 8.5″x11″ to 11″x17″, double sided
Galadriel – Color laser printer, paper sizes 8.5″x11″ to 11″x17″, double sided
Athena – Pen plotter, 36″ wide long (roll paper)
Skynet – Pen plotter, 36/42″ wide long (roll paper), high quality for final copies
File Storage
For the convenience of students, the center provides 5GB of central network storage for engineering students. The SDrive may be accessed from any computer in the center (On campus directions) and any computer connected to the Internet (Directions). In most cases, Windows computers in the Kirk lab are set to automatically save files to the SDrive of the logged in user. Files on the SDrive are routinely backed up.
Student Email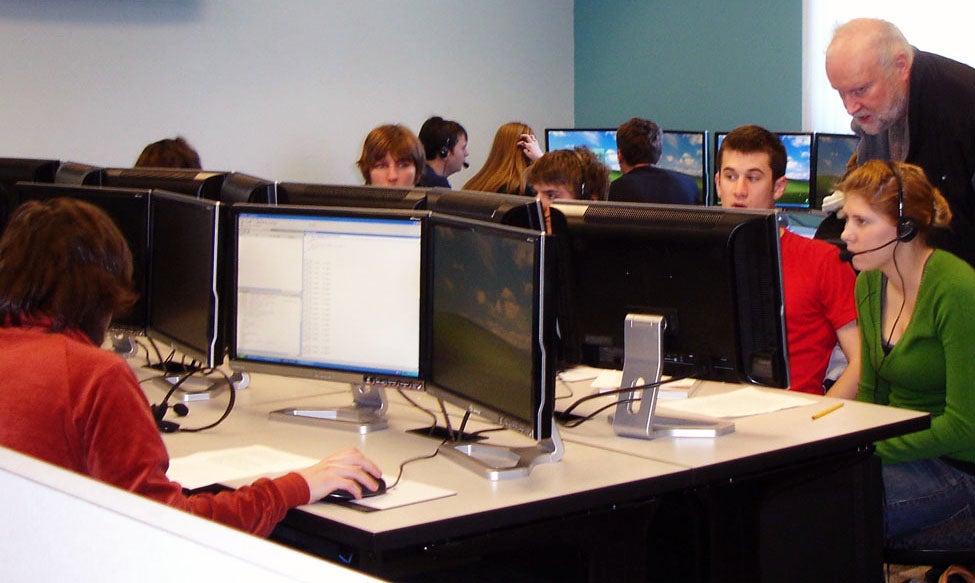 Student's should use their university email at uri.edu. Instructions on how to use the student email system is available on the URI ITS email webpage.
Websites
The center provides network space for the hosting of websites that adhere to the center's use policy. The ECC is not responsible for the content of any users' personal webpages. We reserve the right to review and/or remove offensive content.
To create a website, first, create the www folder on the Sdrive. You can do this from an ECC PC by making a new folder in My Documents (as this is the same as the Sdrive). Then create or drag your web files into this folder. You must have an index file for your website to work, the extension can be .htm, .html or .shtml. You must also have special permissions on both the www folder and all the files for anyone to access it from the web. See a Student Operator, or email ecc-help-group@uri.edu, about this when you are ready to go live.
Notes: