M.A. in TESOL/Bilingual and Dual Language Immersion
Overview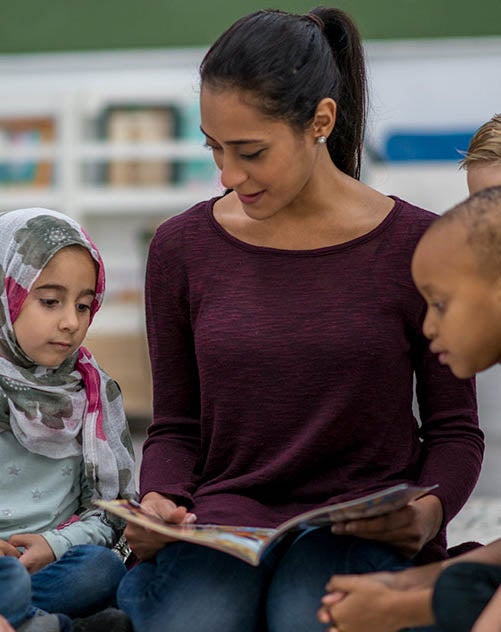 As the world becomes increasingly more global, so has the demand for people to learn how to collaborate, connect, and communicate with one another.
If you want to travel the world, or make a difference right here in the U.S., teaching English is an important area of instruction that's in high (and growing) demand. A related growth area is Bilingual and Dual Language Immersion, where students learn content through both their native language and a target language.
The M.A. program in Teaching English to Speakers of Other Languages (TESOL) and/or Bilingual Dual Language Immersion (BDL) is designed for students who are either certified to teach in public schools, or who are enrolled concurrently in a Teacher Certification Program, or who want to teach English abroad.
The program has three tracks, with emphasis on:
Public school English to Speakers of Other Languages (ESOL),
Public school Bilingual Dual Language Immersion (BDL), or
Education in a range of settings outside of public schools, including international settings.
This is primarily an online program that will provide you with the knowledge, skills and dispositions necessary to develop the language proficiency of individuals learning English as a second language, and for those seeking bi-literacy in English plus an additional language. The program is also designed to help you to work collaboratively with other professionals to plan and implement high quality educational services.
If you are seeking teaching certification in TESOL or BDL in a state other than Rhode Island, you should check with your state's Department of Education regarding reciprocity. Check here to see if this program is offered in your state
Program Goals
Based on the professional standards of TESOL, the accrediting organization for ESL and the Rhode Island Dual Language Program Standards, graduates of this program will:
know, understand, and use the major theories and research related to the structure and acquisition of language to help English Learners (ELs) develop language and biliteracy and achieve in the content areas;
demonstrate understanding of how cultural groups and individual cultural identities affect language learning and school achievement;
promote equal status of both languages in dual language settings (dual language option);
plan for multilevel classrooms with learners from diverse backgrounds using standards-based ESL, Dual Language, and/or content curricula;
implement standards-based instruction using a wide range of resources and technologies to promote language and literacy development;
demonstrate understanding of various assessment issues as they affect ELs, such as accountability, bias, special education testing, language proficiency and accommodations in formal testing situations.
use sheltered instruction strategies to promote language and literacy development.
demonstrate a knowledge of educational public policy and the ability to build partnerships with colleagues and students' families, serve as community resources, and advocate for ELs.
In accordance with the 2019 Reauthorization of the Higher Education Act, URI hereby discloses only that the curriculum for this program meets the educational requirements for licensure as a TESOL/ESOL Educator in the states of Rhode Island, Connecticut, Massachusetts, Vermont, Maine and Maryland. The applicable licensing board in these states may impose additional requirements on candidates prior to granting a license (e.g., passing of an exam; obtaining a certificate; performing additional clinical/practicum hours; etc.), and we encourage you to investigate those requirements with your licensing board. URI has not determined whether the curriculum for this program meets the educational requirements for licensure in any other states or territories and we encourage you to investigate the requirements in your state or territory.