Secondary Education (B.A.)
Overview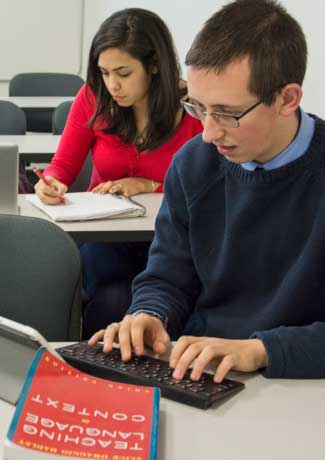 Teaching is a highly demanding, multifaceted, complex, and rewarding profession—and so is our secondary education teacher preparation program. We look for students who possess a strong academic background, a desire to deepen their academic knowledge, and a strong commitment to the intellectual, social, and emotional well being of all children.
The URI program in secondary education is a fully-accredited certification program that prepares students to work in both high schools and middle schools (grades 7–12).
Secondary certification programs are offered in biology, chemistry, general science, physics, English, social studies, history, and math.
Students in the secondary education program take a sequence of professional courses in addition to courses in their academic content area.
Successful completion of the program leads to a B.A. degree, a double major in secondary education and in an academic content area, and an initial teaching certificate for grades 7-12 in the certification content area.
In addition to earning a dual degree, you will also have the opportunity to pursue a Middle Level or ESL endorsement.