May 28, 2021
Welcome to the seventeenth in our continuing series: GSO Profiles. Each post will feature a brief interview with a member of the GSO community. For the next few weeks we will feature GSO students who graduated over the past year. These profiles are one way we can celebrate the accomplishments of those graduating in this unusual time of COVID-19, and also welcome them to the ranks of GSO alums.
Anna Robuck, who received her Ph.D. this past December working with GSO professor Rainer Lohmann, really enjoyed all aspects of her research whether it was doing necropsies on sea birds and locating plastic fragments, sampling for microplastics in coastal areas, or conducting research aboard a ship in the open ocean. Her passion for her work and her excellent research was obvious in her dissertation and she was awarded the University of Rhode Island Graduate School 2021 Excellence in Doctoral Research Award. Only one award was given this year for all of URI and it was to Anna! She'll be continuing her research career at the Icahn School of Medicine looking for connections between microplastics and PFASs with human disease.
Here's Anna in her own words:
GSOP: Tell us about your work/research at GSO: what question(s) are you trying to answer?
AR: My research focused on describing the occurrence of novel human pollutants in the marine environment, using seabirds as a sampling window into marine food webs.
GSOP: What is your favorite thing about your work?
AR: Is it too cliche to say everything?! I really enjoyed the interdisciplinary nature of my work and the combination of chemistry, ecology, and oceanography. I also really enjoyed all the time at sea afforded through my research and the GSO cruise requirement…even though I get super seasick, it's such a special experience.
GSOP: What led you to your studies/career in ocean science?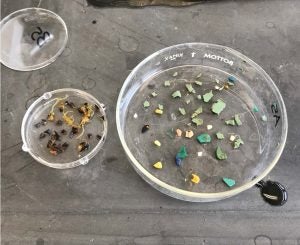 AR: I specifically became interested in water quality and pollutant research after I got sick after surfing in Barbados before my master's. My master's led to more questions that brought me to GSO, and here I am today, still asking ocean and water quality questions.
GSOP: What brought you to GSO?
AR: My M.S. was done at UNC Wilmington and focused on stormwater and coastal water quality. For that research I read some of Rainer's papers, and as I learned more about organic pollutants I became interested in what he was doing. Then I visited and fell in love with the campus.
GSOP: How have the COVID precautions affected you? What was it like defending your thesis virtually?
AR: Finishing my dissertation during COVID was a nightmare. My work is heavily lab-based, and I still had lab work to finish when COVID shut down the world. It was really stressful figuring out how to fill those data gaps and revise the final dissertation narrative a bit to meet the original goals. But I actually loved defending via Zoom — so many of my family and friends who wouldn't have been able to attend otherwise were able to tune in. Almost 120 people joined!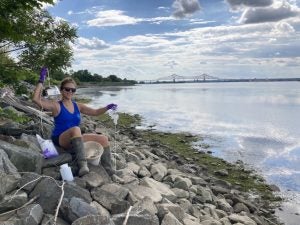 GSOP: Who have been your role models or mentors?
AR: My major professor Rainer Lohmann and Mark Cantwell. Mark (a GSO alum) was on my committee and also was the supervisor for my ORISE Research Fellowship at the US EPA lab off South Ferry Rd These two people were my primary mentors while at GSO and were instrumental to my success.
GSOP: What do you do for fun?
AR: Is this a trick question? I just finished a Ph.D.…fun is just coming back into my vocabulary.
GSOP: What is your favorite spot or view at GSO?
AR: The view from Mosby's porch.
GSOP: What is your advice for someone considering ocean science for their academic/professional career?
AR: Be perseverant, embrace learning about a lot of different topics, and try a bunch of seasickness medications, don't settle with Dramamine!
GSOP: If you have had some time since your defense, what have you been doing since you finished your degree?
AR: I moved into a postdoctoral role at the US EPA through the ORISE program and have also been wrapping up various side projects with my mentors. I move to Manhattan in June 2021 to start a new research position working at the Icahn School of Medicine at Mt Sinai, in their High Resolution Exposomics (HRE) lab. The HRE lab focuses on high resolution mass spectrometry to measure the human exposome. The exposome refers to the millions of chemical substances we are exposed to over the course of our lives. In the HRE lab we'll use advanced analytical instrumentation to measure the exposome by measuring essentially every chemical compound and biological metabolite in a given sample. We'll use the data sets to identify associations between chemical exposures and biomarkers of human disease. My work will specifically focus on high resolution measurements of microplastics in human tissue samples and PFAS analysis.
You can follow Anna on Twitter: @annaruthski