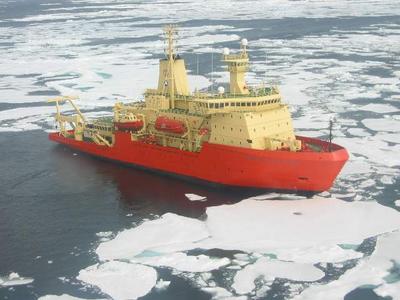 Three women scientists at the University of Rhode Island will lead expeditions to Antarctica this year, thanks to winning highly competitive grants from the National Science Foundation.
The expeditions aboard the research vessel Nathaniel B. Palmer reflect URI's successful initiative to recruit more women to science faculty positions and create a welcoming environment for them.
The scientists are: Tatiana Rynearson and Rebecca Robinson, both professors at the Graduate School of Oceanography; and Bethany Jenkins, associate professor of cell and molecular biology in the College of the Environment and Life Science who also teaches at GSO. The women were hired under NSF's Advance program, which supports female science professors.
All three URI expeditions will study aspects of diatom biology. Diatoms are microscopic ocean plants, or phytoplankton, that make the planet habitable. They are essential to the ocean's role in regulating global climate, the air people breathe and marine food webs.
Jenkins will lead a 37-day expedition that departs from Punta Arenas Chile Sept. 7. The expedition will travel to the Southern Ocean near the Antarctic Peninsula—the tail of the Antarctic continent closest to Chile.
Her 13-member team includes three URI doctoral students and a local public high school teacher, Cara Pekarcik, of Quincy, Mass., who will communicate with her students while at sea.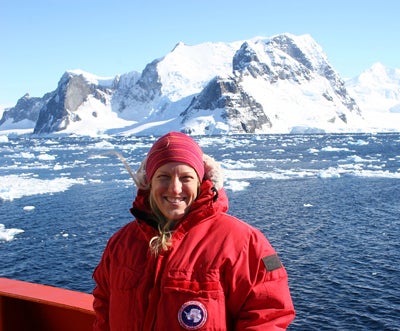 Jenkins' team also includes two other women assistant professors from Old Dominion University and the University of South Florida and their students and research technicians.
"I'm super excited that this scientific expedition is being led by three female scientists in partnership with a local teacher," says Jenkins. "This is an opportunity for us to serve as role models for the next generation and to show that the National Science Foundation and the U.S. Antarctic Program support broad participation in polar research.''
Jenkins and her team will study the roles bacterial communities play to help diatoms grow in the Southern Ocean. The Southern Ocean is an area of the global ocean with some of the lowest iron concentrations that present a challenge for diatom growth.
"Just like we need iron for health, diatoms also have a nutritional requirement for iron,'' says Jenkins. "We are investigating the hypothesis that bacteria living in association with diatoms produce special molecules that help them acquire iron.'To test this hypothesis, the scientists will isolate lab spaces from all the surrounding metal on the ship that can contaminate samples. "We will literally have people and sea water in plastic bubbles that we build."
These "bubble environments'' allow the chemists on board to cleanly measure iron in sea water to determine how much iron is in organic molecules that may be made by bacteria.
Her team will bring diatoms and bacteria into a culture on the ship. Back at URI, the scientists will use advanced genome sequencing methods similar to those used by forensic scientists to identify diatoms and bacteria, and the genes they may use to share compounds.
This research will help Jenkins and colleagues understand how ocean chemistry and biology interact and help scientists predict food web functioning and ocean carbon uptake in future oceans affected by changing climate.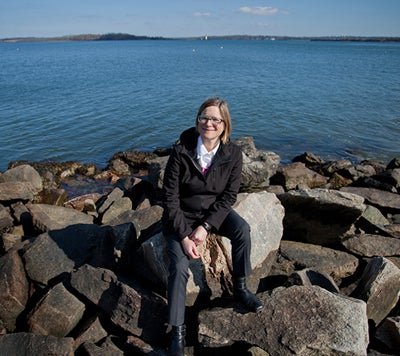 Rynearson's team will depart from Punta Arenas, Chile Dec. 24 and arrive at McMurdo Station in Antarctica Jan. 20. The seven-member team includes a former GSO graduate student; two graduate students at GSO; a GSO technician; and a URI undergraduate student.
Rynearson will examine how Southern Ocean diatoms—a group of algae with key roles in the marine food web and the biogeochemical cycles of that ocean—adapt to environmental change.
Diatoms will be sampled from different areas of the Southern Ocean, including the Drake Passage, the Pacific sector of the Southern Ocean and the Ross Sea, and examined to determine the range of their genetic variation in and between those regions.
The information on the genetic diversity of those samples, combined with details on adaptability and changes in their genetic diversity, will provide insight about how polar marine diatoms respond to environmental changes that might occur in surface oceans or have occurred during past climate conditions.
The URI student scientists "will learn the fundamentals of experimental evolution,'' says Rynearson. "That's a skill set being sought in the fields of biology and oceanography.''
The project also includes a collaboration with the Metcalf Institute for Marine and Environmental Reporting. Rynearson's research is expected to be presented to journalists at a later date.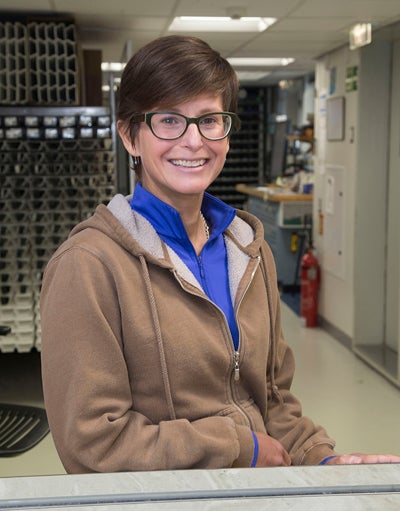 After pushing off from McMurdo Station in Antarctica Jan. 23, Robinson will travel across the major regions of the Southern Ocean, from near the ice edge in the Ross Sea to the subtropical Front.
She'll be joined by a research technician, a graduate student and an undergraduate student—all from URI. A five-member group from the University of California, Santa Barbara, will also participate.
Robinson and her team will examine the relationship between the nutrient forms of nitrogen and silicon that diatoms use, and the isotopic composition of nitrogen and silicon in a diatom's shell, called frustule.
"Diatom frustules are a major component of Southern Ocean sediment and if the chemistry of these important nutrients is reflected in the fossils, then we can use variations in the fossils to study these nutrients in the past,'' Robinson says. "Because diatoms need nitrogen and silicon to take up carbon, we can study changes in the carbon cycle by extension. Understanding the natural operations of the carbon cycle is critical to predicting how it will change under human-induced stresses.''
During the cruise the group will collect water, particles, and seafloor mud from 13 sites, which will be stored for work back on land. They head home March 5.
Over the years, GSO and CELS have worked successfully to hire more women faculty. The last four hirings at GSO, for example, have all been women: Melissa Omand; Jaime Palter; Colleen Mouw; who will start this fall; and Roxanne Beinart, who will start in the fall of 2017.
Omand received the Outstanding Young Scientists recognition from Science magazine this year. She was among 10 selected from a pool of young scientists nominated by Nobel laureates and members of the National Academy of Sciences.
"I am very excited about all of the research and outreach initiatives and accomplishments of GSO's faculty, marine research scientists and staff members,'' says Bruce Corliss, dean of GSO. "It is truly impressive to witness the results of their hard work each year. It is particularly rewarding to see the efforts of Tatiana Rynearson and Rebecca Robinson being recognized by the National Science Foundation through the funding of these most recent projects. Their successes are highly reflective of the successes of all of GSO's faculty, marine research scientists and staff in their commitment to advancing understanding of the world's oceans, as well as maintaining GSO as a world-leader in ocean research and outreach. We are very lucky to have them as key members and leaders of the GSO community."
Gail Scowcroft, associate director of URI's Inner Space Center, agrees: URI professors Tatiana Rynearson, Rebecca Robinson and Bethany Jenkins "are top shelf and are conducting ground-breaking ocean science research. GSO is fortunate to have all three on our faculty. The National Science Foundation's ADVANCE program has given young women scientists a tremendous opportunity to enter the research workforce across the U.S., and with NSF's support, URI has been able to recruit several remarkable scientists.''
Photo of Nathaniel B. Palmer by Jim Rogers
Media Contact: Elizabeth Rau 401-874-2116
A related story about the ADVANCE program, which includes Profs. Rynearson, Robinson, and other GSO faculty, see http://today.uri.edu/news/gender-diversity-among-uris-stem-faculty-continues-rise/