Alcohol and Other Drug Education (AODE) uses a realistic, harm-reduction approach when talking with students, faculty, and staff. AODE provides not only the educational sanctions for students who violate a community standard violation but also is available to meet with any student currently in recovery, looking to cut back their use, or is concerned about someone else's substance use. AODE is available to provide trainings for students, faculty, and staff and can tailor a training to your specific need. AODE also is a member of the A.N.C.H.O.R team and is available for consultation.
Contact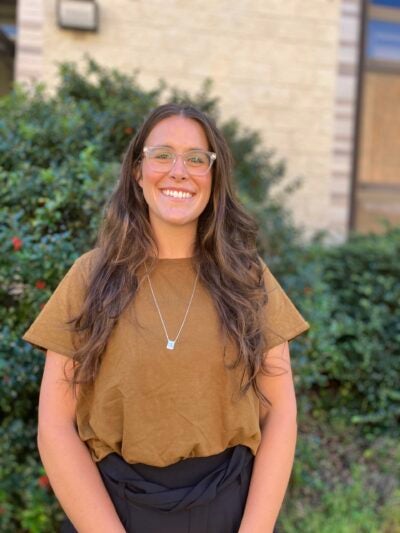 Arielle Sherman, LICSW
Services Offered
Whether you're looking to develop a healthier pattern of use, want to take a break, learn more about harm reduction, join a recovery group, or have something else in mind, we provide a variety of programs, services, and resources–all in an individualized, supportive, and judgment-free space.
Sessions: Through education, group therapy and brief individual counseling, and collaborating with outside providers for more intensive services, we help students halt the downward spiral and reclaim control of their lives.
Community Outreach: AODE offers educational outreach opportunities to students, faculty, and staff. AODE works alongside Health Promotion offering awareness events and campus presentations.   
Support Group: Considering Change is a weekly group for students who want support as they rethink the way they use substances. The group focuses on sharing successes, challenges, support, and understanding. We are not affiliated with any national or 12-step programs, nor do we follow a specific curriculum.
This group is a drop-in basis occurring every Wednesday 5-6pm in the Memorial Union, Room 304.
---
Medical Amnesty Policy
URI's Medical Amnesty Policy, as defined in the Student Handbook (https://web.uri.edu/studentconduct/handbook/ ):
Action taken to preserve life and/or safety of students in emergency situations shall not expose students to Student Conduct charges regarding alcohol or drug consumption if that student's role in the situation is to call for help or emergency services.
When to Call 911
If a friend has been drinking, especially a large amount over a short period of time, has hurt themselves while drinking, or has been taking drugs, look for these signs of possible alcohol poisoning/drug overdose:
Inability to stay awake or respond to shouting and shaking
Disorientation and mental confusion
Pale, cold or bluish skin
Passing out – difficulty remaining conscious , or inability to wake up; does not respond when shaken, pinched or moved
Vomiting
Slow or irregular breathing
Changes in body temperature
Additional Campus Supports
---
Alcohol Information
Harm Reduction Tips when Deciding to Drink
Eat a full meal before intending to drink and eat while drinking
Set a drink limit & Keep track of the number of drinks consumed
Stay hydrated (with water, juice, anything non-alcoholic)
Stay with friends
Have a buddy system
Be in a safe environment when you choose to drink
Avoid mass consumption of hard alcohol (e.g., binge drinking)
Measure your drinks (know what a standard drink is)
Never drink an opened or unattended drink
Skip drinking games (or play with water instead)
Space out your drinks over a longer period of time
Tell a friend your plan for the night (where you'll be, who with)
Have a designated driver
Other Alcohol Resources
AUDIT: Alcohol Use Disorders Identification Test: The AUDIT questionnaire is designed to help in the self-assessment of alcohol consumption and to identify any implications for the person's health and wellbeing, now and in the future. It consists of 10 questions on alcohol use. The responses to these questions can be scored and the total score prompts feedback to the person and in some cases offers specific advice.
Cannabis Information
Starting in December 2022, recreational cannabis is legal in Rhode Island, and you must be at least 21 years old to legally possess or purchase cannabis. Though, just because the state has legalized, does NOT mean it is allowed on URI's campus.
BE AWARE: URI follows federal law. Because cannabis is federally illegal, all campuses must comply with the Drug Free Schools and Campuses Communities Act, which does not allow cannabis, medicinal or recreational, on school property.
The effects of cannabis vary from person to person and depend on many factors, including:
Whether it is smoked or eaten (i.e., brownies, cookies, sandwiches);
Concentration of THC (the key ingredient in marijuana);
Previous experience with the drug; and
Whether it is used with alcohol and/or other drugs.
Psychological Effects
Feelings of relaxation, sociability and euphoria
Lack of motivation
Reduced inhibitions
Impaired learning, memory, attention and concentration (can last for a few days and up to weeks)
Delusions, hallucinations and distorted perceptions
Increased anxiety for some people and reduced anxiety for others
Physical Effects
Increased appetite
Nausea relief
Increased heart rate
Drowsiness
Reduced pain
Impaired coordination and balance
Increased sensitivity to sound and temperature
Smoking Versus Ingesting
The effects of smoking and eating marijuana are quite different. Essentially, eating it results in a more intense and longer-lasting high. The chart below highlights some main differences.
| | | |
| --- | --- | --- |
| | Smoking cannabis | Ingesting cannabis |
| Approximate time it takes to feel the effects | 5-10 minutes | 60-120 minutes |
| Length of "high" | 3-5 hours | 6-10 hours; sometimes longer |
| Drug effects | Depressant | Similar to the effects of psychedelic drugs |
| Ability to control dose | Easier | Difficult |
Higher Doses of THC
Butane hash oil (also known as hash oil and honey oil) is a waxy substance that is made using marijuana and butane and has a high concentration of THC (60-90%). The effects of smoking BHO are similar to the effects of using psychedelic drugs. These effects include hallucinations, panic, confusion, paranoia and agitation. Increased doses may cause stronger effects.
Cannabis Additives
More than 400 chemicals have been identified in marijuana, and not all of them occur naturally (i.e., pesticides). Cannabis can also be laced with other drugs including PCP, LSD and crack/cocaine. The more you know about what is in your marijuana and where it came from, the better.
Cannabis Safety Tips
Eat a solid meal first.
Avoid mixing alcohol and cannabis use, especially if it's your first time using marijuana.
Start with a very small dose and wait two hours to determine how your body is going to react, especially when using edibles.
Everyone responds to THC differently; don't base your expectations on a friend's experience.
Don't expect the same high from smoking and eating marijuana.
When using edibles, know where it came from and what's in it.
Do not drive while experiencing the effects of marijuana.
If you overdo it, remain calm, find a safe place to relax, ask a friend to monitor your condition and call for help- 911
Other Cannabis Resources
The T-Break Guide: A guide to support you in taking a successful break from cannabis use. Goes through the process, day-by-day.
QuitSTART: This is a free app that helps you quit smoking with specific tips, inspiration, and challenges.
This is Quitting Program: The first-of-its-kind program to help young people quit vaping, This is Quitting gives young adults the motivation and support they need to ditch JUUL and other e-cigarettes.
For Parents and Supporters
Resources for Recovery
Additional Information
Rhode Island's Hope & Recovery Support Line, 401-942-STOP (7867): This support line connects people to treatment and recovery services 24 hours/day, 7 days/week, 365 days/year.
Live Another Day: An outreach organization that provides extensive information on mental health and substance use resources for People of Color. They feature a College BIPOC recovery guide as well as a curated list of top-rated rehab centers in RI.
The National Institute on Alcohol Abuse and Alcoholism (NIAAA): NIAAA supports and conducts research on the impact of alcohol use on human health and well-being. It is the largest funder of alcohol research in the world.
The National Institute on Drug Abuse (NIDA): NIDA's mission is to advance science on the causes and consequences of drug use and addiction and to apply that knowledge to improve individual and public health.
Substance Abuse and Mental Health Services Administration (SAMHSA): The Substance Abuse and Mental Health Services Administration (SAMHSA) is the agency within the U.S. Department of Health and Human Services that leads public health efforts to advance the behavioral health of the nation. SAMHSA's mission is to reduce the impact of substance abuse and mental illness on America's communities.
Southeast Addiction Center – 2023's Top 50 resources for Black men who are struggling with substance use and/or their mental health.
Lexington Addiction Center – An in-depth guide written for Asian American college students
Southeast Detox – Newly updated for 2023, this guide features over 50 fully-vetted resources for Black women