B.S. in Kinesiology – Exercise Science
Applied Track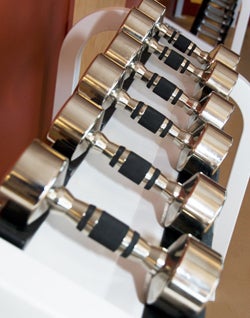 This specialization trains you to assess, design, and implement exercise and fitness programs for individuals who are apparently healthy and those with controlled disease. You will learn to evaluate health behaviors and risk factors, conduct fitness assessments, write appropriate exercise prescriptions and motivate individuals to modify negative health habits. There is an emphasis on applied sciences, with coursework available in the areas of health promotion, nutrition, communication, and human development.
This option is for students considering careers in corporate fitness and wellness, personal training, community fitness, and hospital-based fitness and wellness centers. You may also use this specialization to prepare for graduate study in exercise science, health promotion, preventive medicine and related fields.
Course Requirements
Core Exercise Science Curriculum Courses (47 credits)
Required of all exercise science students. Courses include Human Anatomy, Human Physiology, Physiology of Exercise and Exercise Testing and Prescription. The required 12-credit internship provides students an opportunity to apply scientific course work principles in an exercise, fitness, rehabilitation or physical therapy setting.
Professional Content Area (14 credits)
Select from courses such as Measurement and Evaluation, Program Development, Athletic Injuries, Sport Psychology and Advanced Strength & Conditioning.
General Education Requirements (40 credits)
Courses taken to meet university requirements. See UCAS for more information.