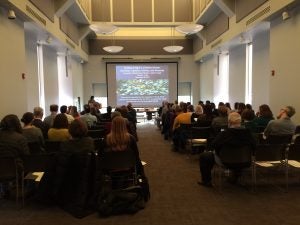 The University of Rhode Island (URI) Libraries hosted a panel discussion program "Building Bridges in a Divisive Climate: Diversity in Libraries, Archives, and Museums" on Thursday November 30, 2017 at the Galanti Lounge of the Robert L. Carothers Library and Learning Commons. This event was organized by the URI Libraries and sponsored by the URI Office of Community, Equity and Diversity and the URI Multicultural Center.
More than fifty people attended this panel discussion program ranging from professionals in academic and public libraries, museums, and archives, students in library, archive, and museum science, to those who do not work in those fields but have interests in the topic of diversity, equity, and inclusion. The program was well received with the majority of the feedback surveys collected rating the program excellent.
This is the first program organized by the URI Libraries that encourages people to explore current issues and challenges in diversity, equity, and inclusion in libraries, archives, and museums in order to advance those civic values in society. More programs looking into many different dimensions of diversity, such as age, disability, religion, sexual orientation, race/ethnicity, and socio-economic status, are to be planned in the near future.
This program was designed to offer safe space for both panelists and attendees to share their experience and thoughts and respect everyone's privacy. No streaming or recording was made. The program information can be found below.
Program

Opening Remarks:
Donald H. DeHayes, Provost and Vice President, Academic Affairs, University of Rhode Island
George R. Gallien, Director, Multicultural Center, University of Rhode Island
Karim B. Boughida, Dean of Libraries, University of Rhode Island
Moderator:
Bohyun Kim, Associate Professor and Scholarly Technology Librarian, University of Rhode Island
Panelists:
Beatrice Pulliam – Director of Technology and Information Services, Providence Public Library
Edward Garcia – Director, Cranston Public Library
Karim Boughida – Dean of Libraries, University of Rhode Island
Lareese Hall – Dean of Libraries, Rhode Island School of Design
Lorén Spears – Executive Director, Tomaquag Museum
Renee Neely – Project Archivist, Center for the Study of Slavery and Justice, Brown University; Diversity Initiatives, University of Rhode Island Libraries