Click on the black arrow to open the chat in a new window.
If we're not online, please email us at pellib-group@uri.edu. Please allow 2-3 business days for a response.
About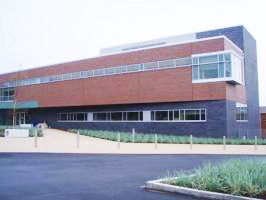 The Pell Marine Science Library is located in Narragansett, Rhode Island on the Narragansett Bay Campus of the University of Rhode Island (6 miles east of the Robert L. Carothers Library and Learning Commons in Kingston, RI). The National Sea Grant Library is located adjacent to Pell Library. The Pell Library is part of IAMSLIC (The International Association of Aquatic and Marine Science Libraries and Information Centers).
URI Libraries Search
Library Services
E-Journal Access
Reference Databases / Online Resources
Hours & Location
Contact
Phone: 401. 874. 6161
Email: pellib-group@uri.edu
Pell Marine Science Library
University of Rhode Island
Graduate School of Oceanography
South Ferry Road
Narragansett, RI 02882-1197
Staff
Julie Cerrito jcerr@uri.edu
Visit Pell Library on Facebook.