Click on the black arrow to open the chat in a new window.
If we're not online, please email us at uriccelib-group@uri.edu. Please allow 2-3 business days for a response.
About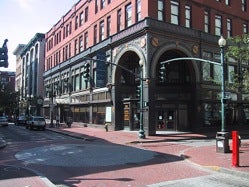 Located in the heart of downtown Providence, the Feinstein College of Education and Professional Studies offers degree-granting programs on the undergraduate and graduate levels, and features the Bachelor of Interdisciplinary Studies (BIS) degree, which has been designed especially for the returning adult student. The URI Providence Campus Library supports the information needs of this unique student body with its collections, services, publications, and staff.
The library is located in the Shepard Building at 80 Washington Street, Providence, RI 02903. For information on parking, see the Parking page for the Providence Campus.
URI Libraries Search
Library Services
E-Journal Access
Reference Databases / Online Resources
Hours & Location
Contact
Phone: 401.277.5130
Fax: 401.277.5148
Email: uriccelib-group@uri.edu
Feinstein Providence Campus Library
University of Rhode Island
80 Washington St. Providence, RI 02903
Staff
Tawanda Maceia tmaceia@uri.edu
Artie Martino martino@uri.edu
Visit the Providence Campus Library on Facebook