This inscription was removed in March 2023. Learn more
---
High on the front of the library, to the far right of the entrance, is the inscription.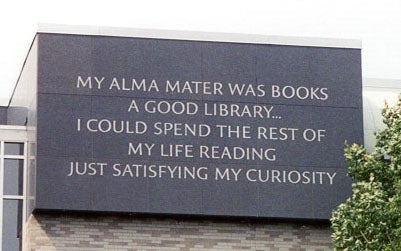 MY ALMA MATER WAS BOOKS
A GOOD LIBRARY…
I COULD SPEND THE REST OF
MY LIFE READING
JUST SATISFYING MY CURIOSITY
These are the words of Malcolm X (1925-1965) from his Autobiography (New York, 1965), Chapter 11. The quotation is extracted from the following consecutive sentences of paragraph 59 of that chapter:
I told the Englishman that my alma mater was books, a good library. Every time I catch a plane, I have with me a book that I want to read — and that's a lot of books these days. If I weren't out here every day battling the white man, I could spend the rest of my life reading, just satisfying my curiosity — because you can hardly mention anything I'm not curious about.
This inscription and the corresponding one on the west facade were carved in the black granite facade panels from the end of a sixty-five foot hydraulic boom lift. The sans serif letter forms are based on the skeleton of the Roman majuscle. The carving was done by sandblasting through rubber stencil material applied to the stone surface and cut, in place, through full-size handdrawn paper layouts of the inscription. The carving of both inscriptions was executed during October, 1992.
The area occupied by each of these facade inscriptions is approximately 20 feet by 7 feet. The letters are 10 inches high.