Students learn from clinicians in various disciplines while providing free service to patients at Providence clinic
By Allie Shinskey
Nurse practitioner students at the University of Rhode Island get hands-on training while providing services to patients at the Rhode Island Free Clinic in Providence, helping provide professional care to low-income and uninsured adults in Rhode Island.
Nursing Professor Rebecca Carley leads a group of students who deliver care to patients while building professional skills. Students are able to perform comprehensive exams, discuss options for treatment and refer patients to other clinicians at the clinic for treatment, if necessary.
"I think that's one of the real benefits is students have said that I treat them as providers and I'm there to back them up," Carley said. "It's actually being able to do it yourself and then have someone come in to check because that's how you learn. We are able to provide a lot of different experiences for students."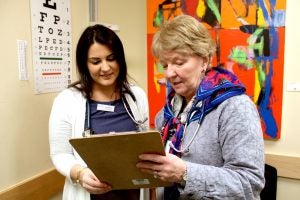 That ability to work directly with patients, with backup from Carley and all the nurses, physicians and social workers at the clinic, is a great learning opportunity that helps prepare nurse practitioner students for when they'll be treating patients independently, according to Carly Masse, a graduate student in the College's Adult Gerontological Nurse Practitioner program.
Masse has the opportunity to work directly with real patients at their appointments while Carley checks in periodically to make sure everything is going smoothly.
"That's how I learn. I know it by doing it as opposed to just watching what she does," Masse said about working with Carley. "I've been here only a few times, but I feel like I've seen everything, every side of everything you could see already."
The clinic was founded in 1999 and is made up of community partners, volunteers and supporters who provide care to thousands of patients, hosting about 11,000 appointments a year, and providing more than 25 different specialties and services, according to Assistant Director Marvin Ronning.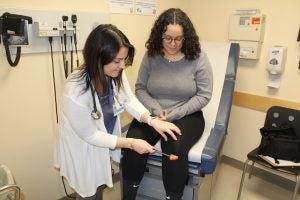 "It's not an urgent care; it's not a walk-in clinic. It's a place where people come for a scheduled appointment and they get whatever other care and services they need," Ronning said, noting the clinic's mission is to provide care while helping train the next generation of health professionals. "The activities at the clinic are always because of partners including academic partners and folks like Becky who really are extraordinary volunteer providers. Faculty members are sort of a provider and a preceptor, and there's opportunities to interact with such a range of patients and other professionals at the clinic."
That gives students the chance to work with people from a variety of backgrounds and disciplines, expanding their learning opportunities, Dr. Carley said.
"The clinicians here have information that is very helpful; you can always speak to one of the physicians or nurses or social workers. We have psych people who ask social workers to see patients right then; they're available here. And that's wonderful knowing there's someone there when you really need something. And it's good for the students to be able to see the clinic working in such an interdisciplinary way."
Nearly 50,000 low-income men and women in Rhode Island are either not eligible or cannot afford health care, according to the clinic's website. "We are the safety net for the safety net in Rhode Island. If you need us, we're here, offering comprehensive care, education and support," the website reads.
Being able to serve the community while learning is why students like Masse work with patients at the clinic. In this way, both patients and aspiring professionals are given the resources and support they need.
"I get the time to really get in depth with patients and learn their histories and what's going on with them. If I had like ten minutes and that was it, I'd feel like I couldn't get anything done," she said. "I think it's really important to have time with a patient because you're talking about the quality of life and that's not something you can rush. Having that one-on-one time with a patient really helps me provide the service they need, and gives me the experience I need to become a better nurse practitioner."
Allie Shinskey is a sophomore journalism major and intern with the Academic Health Collaborative.