3D Facility for Biomedical Sciences:
Animation, Visualization, and Printing
Located on Level 2 of Avedisian Hall
3D Printing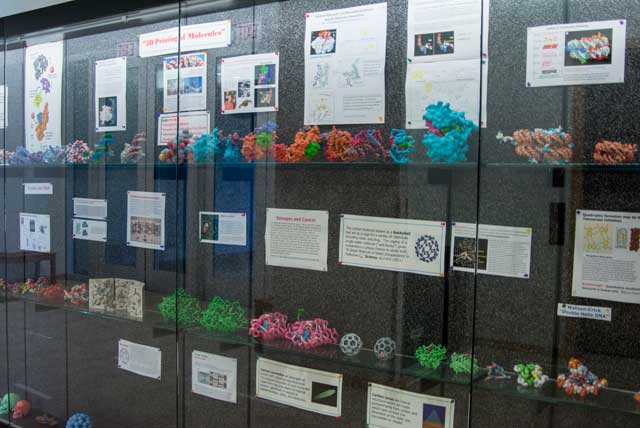 The success of our 3D Teaching Animation Program motivated us to embark on a new challenge: "3D Printer." This is no ordinary printer; it literally produces physical models the student can create in solid color 3D.
As an example, we can develop animations/models that show students how joints work—and what happens when one is dislocated. This 3D production offers students an exciting, hands-on way to learn, providing the kind of visual teaching they seldom experience in science classes.
Students and faculty can actually hold the animated objects/molecules in their hands so they can touch and inspect the intricate details of cellular and molecular processes. The proposed "3D Center" will be equipped with modern technologies that allow the students to animate, view, and print all in 3D.
We acquired a Z-650 3D printer from Z-corporation (now "3D Systems") in 2011 with financial support from the Champlin Foundations. This printer provides fast and affordable color 3D printing of molecules and other models.


 "We Print Your Molecules"
Cost depends on volume of a model ($10 per cubic inches)
Please make requisition to Chartfield Number 105-2606-7210.
For more information, please contact Bongsup Cho.