Future Students
We are looking forward to connecting with you at the events we are hosting. Events include group information sessions and special events offered by the college and the our wider URI community.
Contact
Info Sessions & Events
Friday, December 1, 2023 @ 1:00pm – College of Pharmacy Exploration Day

-

Registration Open | In-person | BSPS | PharmD

This event is designed for you to get a closer look at the College of Pharmacy at URI. You'll learn about the role of pharmacists and pharmaceutical scientists, explore research opportunities, participate in health and wellness activities, tour the College of Pharmacy, and experience our simulation lab.
Recorded Events
BSPS Zoom Career Panel – Monday, October 23, 2023
BSPS Zoom Career Panel – Wednesday, April 12, 2023
In these student-led panels some of our alumni discuss their day-to-day responsibilities, what they love about their jobs, their path to their current roles, and what they wish they knew on their first day of work.
---
March 17 – Plants to Drugs: Discover How Nature Powers Research at URI
Join us for a virtual tour of the Heber W. Youngken Jr. Medicinal Garden live from the College of Pharmacy greenhouse and a pharmacognosy research laboratory. Learn about plants that keep us healthy, from sources of molecules developed into pharmaceuticals to the origins of the ingredients in your herbal tea. Watch a demonstration of how whole plant extractions are done, and see the instruments that are used to identify and describe the individual constituents.
---
November 5 – From Plants to Pure Drugs (MOCK CLASS)
Instructor: Matt Bertin, Ph.D., Assistant Professor
Did you know that over 50% of the drugs used in our clinics come from natural sources such as plants, bacteria, and fungi? Researchers at the University of Rhode Island are very interested in finding new drugs from these natural sources. These scientists use very specific experiments to find and purify these potential drugs. This lesson will teach you about some of these experiments and it will show the path from a plant to a pure drug.
Dr. Matt Bertin, an assistant professor in the College of Pharmacy is a "Natural Product Chemist" whose research laboratory tries to find new drugs from marine algae. He will showcase the machines and instruments in the College of Pharmacy that make it possible to go from a plant in the garden to a drug in a vial.
Meet with us
Register for a virtual visit with faculty and student representatives from the College of Pharmacy to get your questions answered and learn what it's like to be a pharmacy student at URI.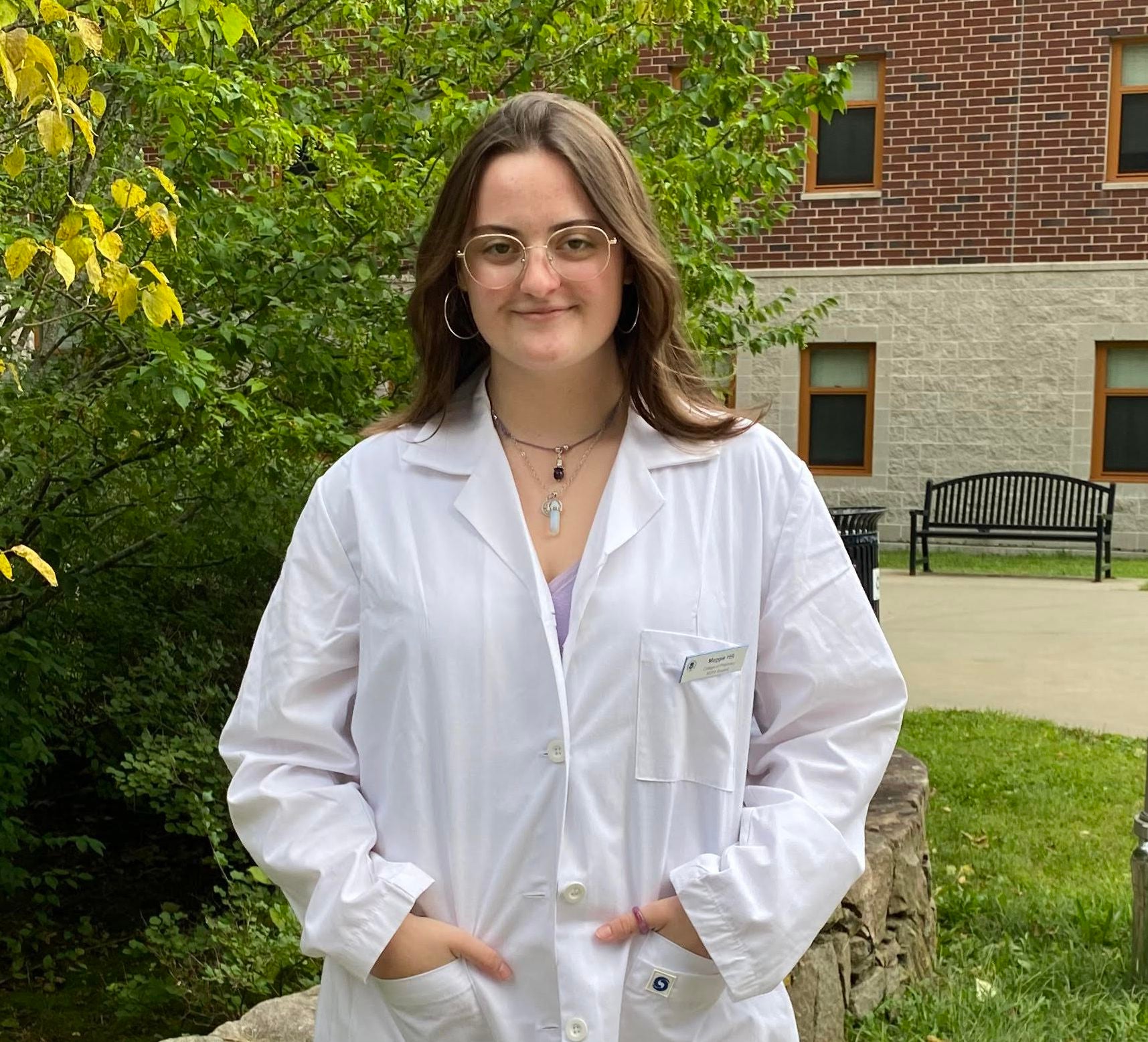 Maggie Hill, B.S. Pharm Sci '23, MS Student
Margaret Hill is a graduate research student with experience working in a variety of laboratory settings, such as the Laboratory of Bioorganic Chemistry at the National Institutes of Health (NIDDK) and the Alex and Ani Positive Impact Lab at the University of Rhode Island (URI). She has a strong interest in natural products and their mechanisms of action, as well as the chemical ecology of the natural world. Margaret recently graduated magna cum laude from the Bachelor of Science in Pharmaceutical Sciences and Honors programs at URI. She is currently working to complete her Master's thesis on the roles of bacterial membrane vesicles produced from putative probiotics for their potential applications in marine invertebrate aquaculture, under the supervision of Dr. David Rowley and other members of the URI Probiotics Working Group. When she's not in the lab, she enjoys kayaking and hiking in her home state, Maryland.
Register for a small group Q&A with Maggie
Tour the College
Tours of the college are available by appointment, please contact Denise Gorenski (401.874.5842 – deniseg@uri.edu). Tours are also part of out Information Sessions (including live zoom tours for remote participants).
Viewing on a phone? Click here for the best experience

Join us for a 25 minute tour of Avedisian Hall. We start with Katelyn, one of our PharmD students, giving a general tour of the building before she hands off to Beth, one of the students in the BSPS program, who shows you around one of our research labs.

Instructions: On a computer, use your mouse to rotate the video. On a mobile device, simply move it around and the view will follow where you are looking.