Marketing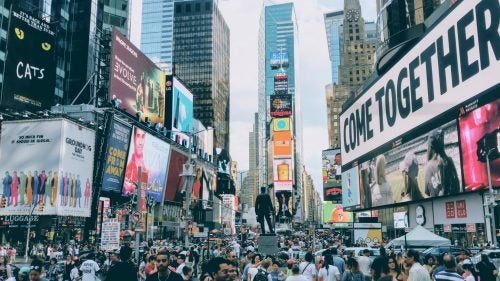 Overview
Marketing drives business. It requires creativity, innovation, an analytical mindset, and ambition. As a marketing major, you will learn how to build strong brands, align products with the appropriate market, set optimal prices, create powerful communications, utilize digital media, and manage customer relationships, all within a global environment.
Are you sold? We are. We have designed the marketing major to offer you foundational marketing skills combined with those focused on consumer behavior, leveraging analytics, and social media to give you a comprehensive degree program.
The College of Business offers graduate study in marketing at both the masters and Ph.D. levels. Through the evening M.B.A. program, students may elect to concentrate in marketing, and the Ph.D. program offers a marketing specialization.
Is marketing right for me?
The field of marketing sits at the foot of the fundamental question: what do people really want, anyway?
Marketing as a field draws from other areas of social science – sociology, anthropology, psychology, and quantitative fields like economics and statistics — to build a layered understanding of how consumers behave, how firms interact with consumers and other firms, how government regulation impacts consumers and what all this marketing data actually mean. Marketers not only apply this knowledge for societal benefit and profit, but also for fun.
So, here are a few questions to consider to help you determine if majoring marketing is right for you.
Am I interested in learning more about people, what they want, and what they value?
Marketing is all about better understanding and meeting customers' needs and desires. Marketing research can inform consumer behavior, bringing to light how and why people consume certain products and services. This critical data informs marketing strategy, providing these professionals a better understanding of how to reach customers and drive sales. This information can also inspire product or service improvements or the development of new businesses to meet unmet, unfulfilled, and previously unknown consumer needs. Marketing research can also be used to inform how to equitably meet consumer needs, protect consumer vulnerabilities or to help build a better world.
Am I interested in communicating and delivering the value of products or services?
Marketing strives to inform customers of specific products or services that offer them value and then convince them to perform your desired call to action. The process involves correctly identifying the target market for the offering and delivering them the right message. But this still may not be enough. There are many other factors that determine an effective and successful marketing campaign, including utilizing the right medium, whether it be digital, print, television, radio, out-of-home, etc. and running it during the right time. You don't want to be trying to sell winter hats in the middle of summer! Marketers need to meet the consumer where they are. It is an art and a science driven by both anecdotal and analytical information.
Do I want to express my creativity throughout my career?
Marketing majors do this as they generate creative content like slogans and logos, manage social media accounts, and design the best possible method for communicating a brand's core message to consumers. Other marketing majors choose a more analytical route, specializing in extracting insights from customer data. Marketing faculty apply their creativity and analytical skills to topics related to branding, design, machine learning, digital marketing, public policy, and helping consumers make better choices about health, finances and well-being. It's an exciting field that's ever-changing and challenging as firms constantly try to improve and change marketing tactics.
As you decide your future, we hope these brief touchpoints on a deep, exciting, and amazing field that we all experience can help you decide if marketing is right for you.