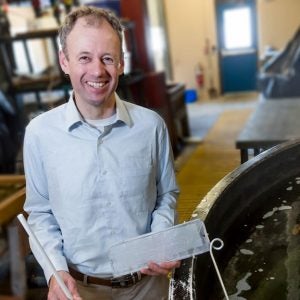 Nonstick cookware and firefighting foam are miles apart in their purpose, but they have one disquieting characteristic in common. Both products are made with chemicals that could be contaminating drinking water and posing a human health hazard.
Fluorinated pollutants, or poly- and perfluorinated alkyl substances, have been used for more than 60 years in a variety of items; still, studies of the chemicals are limited and conflicted.
Now the University of Rhode Island is moving into the forefront of research institutions committed to revealing more about the pollutants. URI has received an $8 million federal grant to research how these industrial compounds, also used in rain-proofing fabrics and food packaging, get into water supplies and harm humans, who are likely to come in contact with the chemicals daily.
The five-year grant from the National Institute of Environmental Health Sciences establishes URI as part of a national network of Superfund Research Program centers with Rainer Lohmann, a professor at the Graduate School of Oceanography and an expert in marine pollutants, as director. He will lead an interdisciplinary group of scientists and outreach specialists from URI, Harvard University and Silent Spring Institute to generate new insights into these pollutants and distribute information to communities.
Researchers will examine to what degree groundwater in towns near the Joint Base Cape Cod, Mass., military training site is contaminated with the chemicals, which were present in firefighting foam used during training exercises. Residents will be informed of the findings and, if necessary, steps will be taken to reduce exposure to the pollutants.
The chemicals have been linked to kidney and testicular cancers, thyroid disease, colitis and suppression of the immune system—maladies that lend urgency to the study.
As one of the few national Superfund Research Program centers in the country, Lohmann says that the new URI-led center will "work closely with communities and scientists to share our knowledge and help inform people and agencies about this growing problem. These fluorinated contaminants are present in the blood of almost every adult in the United States."
GSO Dean Bruce Corliss also praised the project: "Water quality in the United States continues to be one of the most pressing environmental problems we face. This center will carry out critical research to better understand the impact of these chemicals and suggest ways to mitigate the risk of such chemicals."
The environmental and human health hazards caused by these chemicals are only beginning to emerge. Although the chemicals have been produced and used in consumer products for decades, their ubiquitous presence in human blood and the environment was discovered only around 2000.
Sources of the chemicals include landfills, the chemicals' manufacturers, industrial users of the chemicals, and airports and fire-training sites that use foam to extinguishes fires. The chemicals, also known as PFASs, are persistent because they don't break down when exposed to air, water or sunlight and can travel long distances, exposing people and other living things in environments thousands of miles away.
Researchers will use a wide range of tools and equipment for their studies, ranging from new detection tools like water samplers to laboratory experiments with mice, clams and worms that have been exposed to the chemicals. The project aims to understand how the chemicals contaminate the groundwater, the food chain and, ultimately, humans.
Working with principal investigator Lohmann is an interdisciplinary URI team: Geoffrey Bothun, an associate professor of chemical engineering; Alyson McCann, water quality coordinator of URI Cooperative Extension; Angela Slitt, associate professor, and Bongsup Cho, professor, of biomedical and pharmaceutical sciences; and Judith Swift, professor of communication studies and director of the Coastal Institute, along with the Institute's assistant director Nicole Rohr and digital media specialist Amber Neville.
Lohmann will validate new sampling approaches for the pollutants and work with the U.S. Environmental Protection Agency to examine to what extent worms and clams become contaminated when exposed to polluted sediment from Cape Cod and possibly Hoosick Falls, a community in upstate New York whose drinking water was compromised by chemicals from a plastics plant.
Bothun will explore how the chemicals travel from blood into human cells; Slitt will explore what the chemicals do to animals; McCann, working with the Silent Spring Institute, a nonprofit environmental group, will conduct community outreach with Cape Cod communities; Cho will lead an intensive training program for graduate and post-doctoral students working on the project; and Swift, Rohr and Neville will create videos, brochures, op-eds and other communication material for the public on Cape Cod and at other contaminated sites throughout the country.
"Our job is to translate the science into a language the public can understand," says Swift. "We're the bridge between what's happening in the science world and the public—and others in the science community."
Slitt and Bothun will work together to better understand properties that allow the chemicals to enter cells in the body. Bothun's goal is to measure physical and chemical properties of the chemicals and to study how these properties influence the way they interact with biological molecules such as proteins and lipids. Scientific findings about the chemicals are lacking, and conflicted.
Slitt's goal is to understand how various PFASs might disrupt the body's metabolism in ways that can lead to obesity and to explore whether exposure to the chemicals early in life through breast feeding is a risk factor for potential adverse health problems, such as fatty liver disease and disruption of metabolic hormones. Whether PFASs, which persist in the human body, are associated with the development of fatty liver disease in humans is not clear. Slitt will use liver and fat cells from humans to answer these questions.
"The goal of our project is to connect findings in human-derived cells and animal models with human clinical studies being conducted by our collaborators at Harvard to better understand potential health risks associated with exposure to PFASs," says Slitt.
Lohmann says the project is a great example of URI professors and staff working together: "I'm very proud that the center will train young scholars at URI and Harvard to make the world a healthier place."
Photo caption: Rainer Lohmann, an oceanographer at the University of Rhode Island's Graduate School of Oceanography, holds sampling devices that will be used to test water for perfluorinated contaminants. Photo by Michael Salerno.
Media Contact:
Elizabeth Rau
401-874-2116