Services
The Core provides bioinformatics consultation and services to its users. Our services include traditional sequence analysis, statistical analysis, 3D visualization and modeling, and virtual/ augmented reality demonstrations and application development. We also maintain student tracking data for the RI-INBRE program for reporting metrics to NIH and the public.
Consultation and referral
Sequence analysis
Pipeline construction
Statistical Analysis
3D visualization (computational and 3D printing)
VR/AR demos and app development
Visualization and molecular modeling lab
Computational resources through URI
We are constantly evaluating our users' needs to ensure that they have the bioinformatics resources they need to conduct their research. If there is software or analysis tools that you need, please let us know so that we may set them up for you. Tools currently available or soon to be available include:
Gene Expression Analysis Pipelines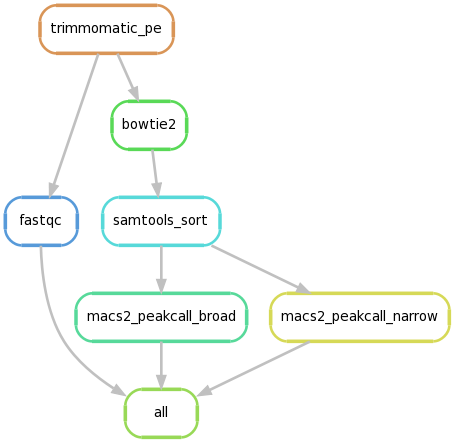 Pipelines for RNA-Seq, ChIP-Seq, and related processes are currently under construction. Our goal is to make these pipelines flexible to allow for customization of analysis. If these tools will be useful to you or if you have a preferred analysis method that you would like us to implement, please contact us for a consultation.
Genome Assembly Pipelines
We can help you assemble genomic read data from next-gen sequencing pipelines, including assembly to a reference genome or de novo assembly.
Molecular Modeling
The Core utilizes numerous programs for modeling and analysis of protein structures. The software we utilize includes Discovery Studio, AutoDock, Chimera, and others. Possible analyses include homology modeling, docking analysis, etc. Many of these programs are only available locally at URI on our Core machines, but we are planning to migrate them to our server to allow for off-site access. If you are interested in using associated software, please contact us.
Adobe Creative Cloud
The Core maintains a team license to the Adobe Creative Cloud software that includes Photoshop, Illustrator, Premiere Pro, etc. RI-INBRE researchers who need short-term use of this software may request access to a "seat" (ie an individual license administered by the Core). Researchers who need long-term access may purchase a seat under the Core's team license. Please contact us for details.
Tableau
The Core maintains a license Tableau Desktop and Tableau Server. RI-INBRE researchers who need access may purchase a seat (ie an individual license administered by the Core) under the Core's team license. Please contact us for details.