All vehicles parked on the Kingston Campus must have a valid parking pass.
Transportation and Parking follows the academic calendar, therefore when classes are in session (either in-person or virtual), reading days or finals, valid permits are required and vehicles must be parked in their designated lots at all times.
Parking Permits
---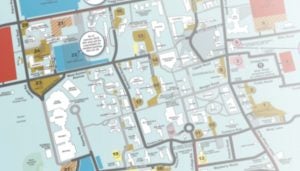 Parking Map
Download a map of the Kingston Campus parking areas (PDF).


---
Nursing Education Center
There is a limited amount of parking options available for students, faculty, and staff at the Rhode Island Nursing Education Center. Learn more about parking at RINEC.
---
Event Parking
Events, camps and conferences are an integral part of the campus environment and need advance planning with the Transportation office. Parking may be limited to specific areas based on a number of factors. Learn more about event parking.
If you are coming to campus for a campus tour, please register here.
Temporary Parking Accommodations
Students requiring temporary parking accommodations due to an illness or injury should contact Disability, Access, and Inclusion for Students.
---
Providence Campus (Shepard Building)
If you are a student employee, or student in an internship/practicum at the Providence Campus (Shepard Building) and need parking, please complete the following application for parking at the Rhode Island Convention Center parking garage here.
---
Contact Us
The Transportation and Parking office is located at:
44 Lower College Rd
Kingston, RI 02881
tap@uri.edu
Phone: 401.874.9281
The University is not responsible for any loss or damage to a vehicle. For more information, download the Parking Regulations.