Transfer Resources
If you have questions, explore these resources—especially our frequently asked questions. We'll help guide you through the transfer application process.
---
Frequently Asked Questions (FAQ)
1.) What are the most important admission criteria you evaluate when reviewing a transfer application?
Each transfer application is carefully and holistically reviewed by the transfer admission counselors. The most important parts of a transfer application are college/university transcripts. Your most recent academic work and grades in the courses most relevant to your major will be closely evaluated in your transfer review.
Please note:
—If you have completed less than a year of college work, we also pay close attention to the preparation and grades received in high school.
— If you applied to URI as a first-year applicant and were not accepted, we typically require that you complete at least a year of college-level work before you apply as a transfer student.
— If you have experienced a drop in academic performance, we expect that you will address the problem in your personal statement or essay, and that you will have improved your performance in the subsequent semesters.
---
2.) Can I schedule an interview?
The University does not interview students as part of the admission application review process. Admission decisions are based on the student's academic credentials and application details. See information below about our virtual chats and how to connect with our transfer staff.
---
3.) How can I find someone to talk to about my major?
Links to specific majors and departments can be found on the transfer admission website. Transfer students have access to their academic advisor once they enroll at the University. The Office of Undergraduate Admission hosts a number of opportunities and programs that allow you to learn more about URI and the programs we offer. You can find in-person and virtual events, as well as on-demand videos, on our Visit Us page.
---
4.) How do I know my credits will transfer?
The University accepts transfer credit similar in content and scope to what is offered here. You will need to earn a grade of "C" or better in order for a class to be considered for transfer. If a course was already evaluated by a department, the URI course equivalent will be listed in the Transfer Evaluation System (TES). Search for your prior school in the database to see all of the courses previously approved for transfer.
If the course you took is not listed in TES, it does not mean it won't be accepted. It just means that we will need to have our faculty evaluate the course to determine its URI equivalent. Transfer credit evaluations are completed for accepted students only. You will need to complete the application process and be accepted in order to receive an evaluation. We do not offer unofficial credit evaluations.
---
5.) Does the University have a residency requirement for transfer students?
Generally speaking, you must earn at least one-fourth of the credits required for graduation in-residence at URI (usually at least 30 credits). However, you should review all major/degree requirements for the college that you are transferring into for more information. The University accepts no more than 60 credits from community colleges or other associate degree granting institutions.
In most cases, credit earned in a transferable course will be granted without regard to the date when the course was completed. However, when updated skills and/or knowledge are necessary for future success, students may be required to take another course or otherwise obtain current knowledge (such as that required by professional accreditation agencies) to meet degree requirements. Courses that cannot be applied to requirements for the major, minor, track, or concentration will be applied to general education requirements, and if not applicable to general education, as elective credit.
---
6.) Does URI offer merit scholarships to transfer students?
Yes. All transfer students with an overall GPA of 3.3 or higher are automatically considered for merit aid. No additional application is necessary. However, we do encourage all applicants to complete the Free Application for Federal Student Aid (FAFSA) in order to receive full consideration for all forms of financial assistance. Learn more about transfer scholarships.
---
7.) How will I be notified of my admission decision?
You will receive an email stating that there has been an update to the status of your application. You should then log in to your portal to view the update. While we do mail acceptance brochures with general next steps, we do not mail decision letters, so checking your portal for updates is essential.
---
8.) If I am admitted, when will I be eligible to register for classes?
Admitted students are eligible to meet with an academic advisor and register for classes once they have paid their non-refundable enrollment deposit. Registration begins for the spring semester in late November and for the fall semester in late April.
Orientation sessions for transfer students are recommended. Sessions include registration for the first semester's classes and important information about URI policies, procedures, and services. Sessions are offered several times each year. See the Rhode to Becoming a Ram website for more information.
---
9.) What are the housing options for transfer students?
On-campus housing is limited and not guaranteed. We recommend that you apply early if you are interested in living on campus. For questions about housing call 401.874.4151 or email: housing@uri.edu. The Office of Housing and Residential Life has many resources to help students find housing in the area. You can find more information by visiting the Off-Campus Housing Resources page.
---
10.) How do I learn more about financial aid?
At URI, our financial aid team is part of our Enrollment Services Office. Accepted students will have access to their E-Campus accounts to view their financial aid offers when they are posted. Financial aid questions can be emailed to: esmail@etal.uri.edu.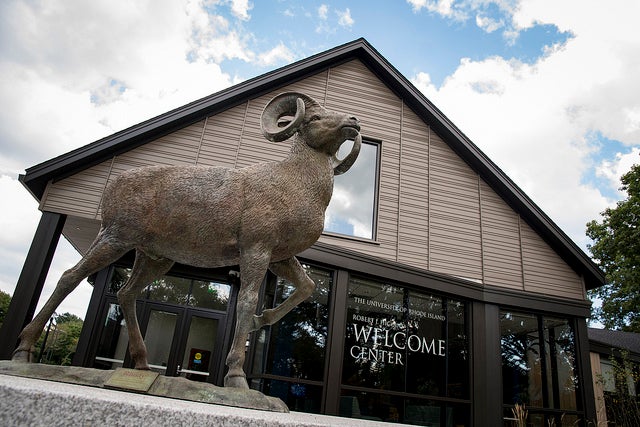 Contact
If you still have questions after reading our transfer resources and doing your research, contact your transfer admission counselor:
---
Monday Virtual Chats
We're online Mondays from 1-3 p.m. (ET) to answer your questions. Drop in — we look forward to meeting you!
No chat scheduled on December 25.
---