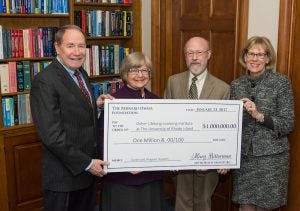 Established in 2009 and offering diversified courses and activities, OLLI at URI enjoys a rich relationship with the University. Membership is open to anyone fifty year of age or better. Whether teaching, learning, playing, or exploring, OLLI members constitute a vibrant, lifelong learning community.
Without the pressure of exams, papers, grades, or previous academic degrees, OLLI members enjoy an environment that encourages intellectual stimulation, curiosity, and the desire to learn just for the joy of learning. Within a friendly atmosphere, people are welcomed and inspired to participate in discussions on topics that generate new questions, and ways of seeing the world and ourselves.
The OLLI at URI is part of a national network of Osher Lifelong Learning Institutes funded by the Bernard Osher Foundation. OLLI members play a key role in shaping, managing, and leading the organization.
The OLLI Community
The OLLI at URI is all about community. The OLLI was started with the URI community coming together to develop a state-wide coalition to secure an initial $100,000 grant from the Bernard Osher Foundation to launch the development of a lifelong learning community at the University. Since its launch, OLLI at URI has blossomed into a vibrant, active, and exciting community of learners that is integrated into the university. After four years of initial support, in 2012 URI received a $1 million endowment gift for the OLLI program, followed in 2017 by a second million-dollar gift in recognition of the OLLI's tremendous growth, the quality of its programs, and the enthusiastic involvement of its members.
Consistent with its emphasis on community, the OLLI at URI gives members opportunities to play key roles in shaping, managing, and leading the organization. OLLI members can take and teach classes, plan and coordinate activities, organize volunteer projects, serve on committees, act as class assistants, help with program promotion and data management, create and edit catalogs, and volunteer for other tasks that keep the OLLI working efficiently with a small full–time staff for over 1100 members.
Although OLLI is housed at URI's main campus in Kingston, which generously provides parking and classroom facilities, membership and programs are open to anyone 50 and better who pay a nominal membership fee and are interested in being part of a lifelong learning community. With that in mind, OLLI provides a wide range of courses in current affairs, history, expressive arts, film, health and wellness, language arts, literature, music, religion, science, and other subjects of interest to members. The OLLI faculty, many of whom are retired high school and college faculty, come with expertise and passion to offer novel and exciting single lectures, workshops, and courses of 3, 6, or 8 weeks throughout the year.
We invite you to join the OLLI at URI and help to create a community where people can exchange ideas, engage in discussion, learn from each other, foster their creativity, develop new friendships, and be a part of something big!