Interested in joining with other active, vibrant adults to explore new ideas, enhance creativity, and engage your mind?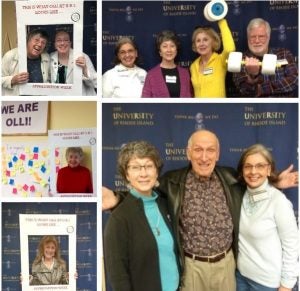 Join OLLI @ URI!
Membership is open to anyone over the age of 50. To participate in any OLLI activities, enroll in courses, lectures, and to receive brochures, individuals pay an annual membership fee of $65. Additional fees for most courses and lectures apply. An OLLI membership runs 12 months from registration date. As part of our annual membership program, we have compiled a variety of membership benefits for (see below), in addition to providing you with exciting and varied course offerings throughout the year.
What does it cost to become an OLLI member?
The fee is for an annual membership is $65 (non-refundable). Your membership must be in effect through the last date of the class(es) you have chosen.
eGift Cards
Wondering what to buy the people in your life who have everything? Your parents, grandparents, aunts, uncles, friends, neighbors, or colleagues? Then do something original and creative—give the gift of OLLI at URI! eGift cards are available at any value. (non-refundable & non-redeemable for cash reward)
Purchase Options: Online at https://uriolli.augusoft.net/index.cfm?method=GiftCard.SendGiftCard or Call the OLLI office at 401-874-4197.
---
How Do I Join OLLI?
Join online.
By Mail
Print the membership form and mail with your check (payable to URI) to:
OLLI/URI
210 Flagg Road, Room 212
Kingston, RI 02881
Membership Form
In Person
The office is open Monday through Thursday, 9AM to 5PM and Fridays 9AM to 3PM. Get driving and parking directions.
---
What Our Members Are Saying
"When you find an instructor that can spark your interest, that's a good thing that can channel your energy in a positive way. Lifelong learning is a process that anchors you and gives you space for yourself in a non-threatening environment. Learning is a gift."
"OLLI has been the beginning of my new life. I didn't know what I was going to do when I retired and being at OLLI has been meeting new people, staying connected, making new friends."
"OLLI has kept me alive. I'm new to the area and I need community - and it's here. It really is. OLLI is a community. They have lots of things to offer and always things that I think, 'why didn't I find this 30 years ago?"
What are the benefits of membership?
OLLI Members are entitled to an array of benefits including but not limited to:
Select from over 200 Courses and Lectures specifically designed for OLLI Members* year-round.
Free OLLI Member parking permit for 3 convenient lots on the URI Kingston Campus

210 Flagg Rd. Lot #21 * (directly in front of our location)
Plains Rd. Lot #25
Fine Arts Lot #6

Participate in Special Interest Groups (SIGS) at no additional cost
Intergenerational Programs with URI students
Weekly newsletter emailed
Discount on tickets for URI Theatre and Music performances**
Exclusive Offerings for Members of the National Osher Network at select OLLI's throughout the country. (See weekly news for current offerings)
Bring a friend to class! Call the office for details.
Access to URI Campus Rec. as part of the URI family. (Additional fees at URI alumni rates)
Free or reduced rate tickets to specific athletic events**
* Some programs are subject to additional fees
** Some restrictions apply
---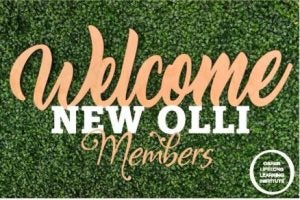 OLLI Membership Welcome!
Both current, new and prospective members are invited to attend and learn about all OLLI has to offer. We'll review our current programs, and our special interest groups all while exploring and becoming more familiar with our OLLI website and registration software. Plenty of time for Q & A. Coffee & door prizes too! Join us!
Held Monthly:
Thursday, October 5 @ 3:00pm
Thursday, November 16 @ noon
Tuesday, December 5 @ noon
Register for this FREE program online at URI.EDU/OLLI. (Select Member Log-in at the top of the page).
Prospective Members can call the office to register.
If unable to register, call the office at 401-874-4197.
Roberta Palmer, Membership Services Director