OLLI at URI
210 Flagg Road, Room 212
Kingston, RI 02881
Phone: 401.874.4197
Fax: 401.874.2736
Email: olli@uri.edu
Subscribe to our newsletter!
Our website address is uri.edu/olli
Directions to OLLI
Route 138
Upper College Rd.
Travel to the end of road
Left on Flagg Rd.
Travel through Stop sign
Continue down hill
As road levels off, entrance to 210 lot #21 is on your left.
#210 is a two-story brown building, setback from road
We are on the 2nd floor (elevator or stairs)
Download Kingston Campus Map
---
Office Hours
Monday – Friday, 10:00 a.m. – 3:00 p.m.
OLLI is closed on legal holidays observed by the University of Rhode Island.
If the University is closed due to inclement weather, OLLI will be closed. Information about the University closings due to inclement weather is available through local television, radio, internet news sources, and on the University's safety page.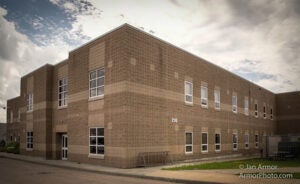 ---
Parking
Fall Update!
Register for your Annual Parking Permit Now! You only need to register your vehicle once during the academic year (Aug-July). Parking permits are virtual, no stickers are provided. If you are a new member or a former member (prior to July 23), there is a least a 5–10-day delay, before you will be able to enter your parking information. Call the OLLI office for assistance at 401-874-4197 and let us do it for you.
Register your vehicle with your OLLI Learner ID at uri.aimsparking.com/

Select OLLI Members Icon (There is no fee, so don't be concerned about "Purchase OLLI Program Permit".
Learner ID (Not Mem. ID) can be located under the Membership Information tab on your Membership Dashboard.
Enter OLLI ID & last name.
May need to add contact information. Confirm
Agree to policy statement and then select OLLI Program.
License plate information will be needed to register & Add a Vehicle.
Add permit to cart & check out.
You will receive an email receipt. Congratulations!

One vehicle per Member

If you bring a different vehicle to campus or your license plate number changes, you will need to log into your parking account and update the vehicle information prior to parking to your car.

Parking permit is only valid for Lot #21, (Staff/Faculty Lot) outside our building at 210 Flagg Rd., Fine Arts Center Lot #6(Staff/South side), Plains Rd Lot #25 *

Lot #21 on Flagg Rd is the closest lot to our building to park. Do not park across the street in lot #20. This is for resident students only.
Visitor passes are available online at Transportation and Parking (aimsparking.com)
Be sure to share this information with your OLLI friends, as not everyone reads their emails!
Avoid a $50 ticket & register your vehicle today!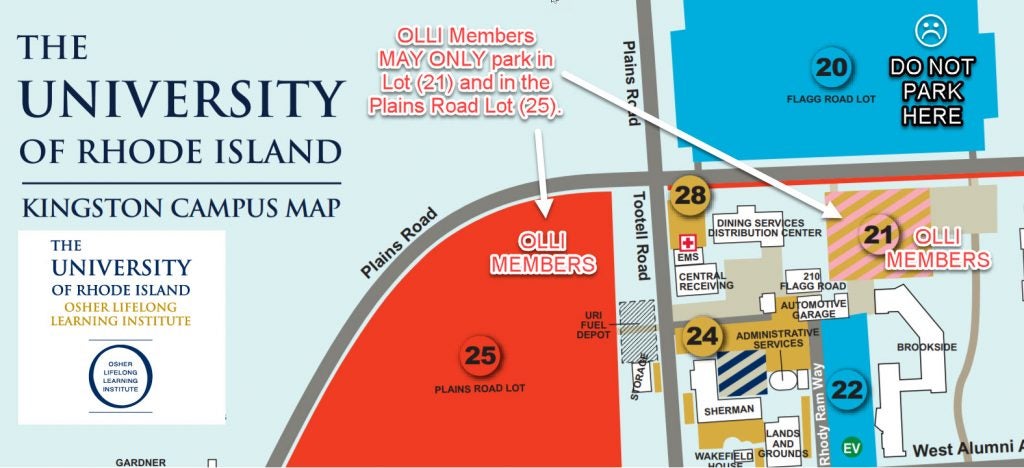 Additional parking is available in the Plains Rd. Lot #25, and the Fine Arts Center Lot #6 (Staff/South side) with your new virtual parking pass.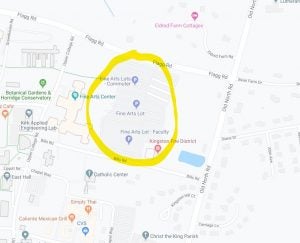 ---
On-Campus Transportation
The URI campus has various bus options to get to and from campus, and around campus. Check out the On-Campus Transportation website for details.