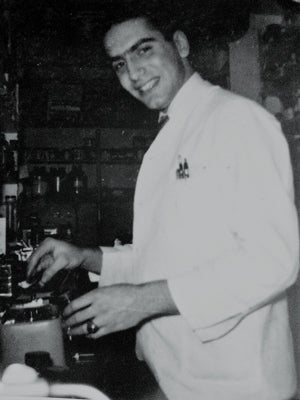 Today's students may have never heard of Paramaz Avedisian '54. But on Monday, October 16, they learned about a man who understood the true meaning of philanthropy.
That was the day the 144,000-square-foot, five-story College of Pharmacy building, which was built in 2012 and serves as academic and research home to nearly one thousand undergraduate, graduate, and doctor of pharmacy students, was dedicated in Avedisian's name. His brother, Edward Avedisian, made the largest single gift to the College of Pharmacy—$5 million—as a tribute to Paramaz.
Paramaz Avedisian, who died in 1996, graduated first in his class from the College of Pharmacy. The son of Armenian immigrants who believed in the transformative power of education, he was motivated to work hard and be successful, like the children of so many immigrants.
But despite his many academic awards and honors, Paramaz considered his greatest achievement to be the tutoring assistance he gave to classmate, Eugene "Gene" Disarro '54. Disarro, legally deaf, will never forget this selfless act. "Paramaz was my best friend and instrumental to me," says Disarro. He, Paramaz and Rodolfo "Rudy" Barbone '54 were known as the "gang of three." "Paramaz was brilliant and helped me so much. If it weren't for him, I wouldn't have made it. There was nobody better."
Edward Avedisian concurs. In fact, this is not the first gift Edward, a world-renowned symphonic clarinetist, professor, and philanthropist, has made to URI in Paramaz's honor. Edward established the Paramaz Avedisian Pharmacy Scholarship in 2010. The scholarship carries special significance: Paramaz was the beneficiary of a similar act of generosity. As an undergraduate, he was faced with the very real possibility of having to drop out of school when his father died, feeling a keen sense of responsibility to take care of his family. Tom Simpson, owner of Simpson's Pharmacy in Pawtucket, where Paramaz worked, recognized the young man's potential and funded the remainder of his URI education.
And to think: Paramaz almost did not attend the University! According to Edward, Paramaz did not apply to URI in time for the admission deadline, so he returned to high school and took additional courses in physics and chemistry. From a young age, inspired by a medicine cabinet that was a gift from his mother, he envisioned a career as a pharmacist.
Paramaz worked even harder as a result of Tom Simpson's belief in him. And he found many ways, including tutoring Disarro, to give back.
Years later, as the successful owner of Wheaton Pharmacy in Washington, D.C., Paramaz continued to pay forward Simpson's kindness. Edward recalls Paramaz telling him about a young man who was going to leave college and get a job so that he could pay for his father's cancer medication. Paramaz would not hear of it. He instructed the young man to stay in college and provided the medication free of charge.
According to Edward, Paramaz lived by a profound philosophy: "If you can't be an advocate for the patient, why be a pharmacist?"
Generations of URI pharmacy students and faculty will benefit from Edward's latest paean to his brother. A portion of the gift will fund the Paramaz Avedisian '54 Endowed Chair in Medicinal Organic Chemistry. The gift will also be used to recruit and support high-achieving pharmacy students with a passion for research and discovery.
Professor of Pharmacy Administration Emeritus Norman Campbell '57 greatly admired Paramaz, considering him a true mentor. "Everyone who walks in that building should know who he was and model their lives after him," Campbell notes.
Edward Avedisian has cemented his brother's legacy. More than that, his gift bridges the distance between past hope and future promise, lighting the way for others to embrace Paramaz's humanity. Echoing Campbell, Edward explains: "I want students who walk through the door to feel a direct connection to him. I want his spirit of helpfulness to imbue this building." •