New Volunteer Training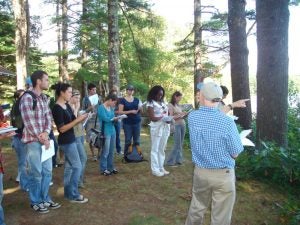 To become a new volunteer water quality monitor (or a citizen scientist), you must participate in spring training. Through this training, you will learn all you need to become a successful volunteer water monitor!
All training and equipment are supplied by URI Watershed Watch.
Volunteers supply time, enthusiasm, and a boat/kayak/canoe to get to the deepest part of their waterbody and collect data with the monitoring methods they have been trained on.
Training is FREE to all participants.
In 2023, there will be in-person training – details of below.
Please complete a new volunteer profile form at: https://web.uri.edu/watershedwatch/getting-involved/become-a-volunteer/
2023 New Volunteer Classroom Training
Classroom training is online ONLY again in 2023! The videos should be viewed prior to field training to better understand what we are doing and why.
Please complete the URIWW Volunteer Profile form at the bottom of the Become a Volunteer page (click here). We'll add you to our email list and you'll get updates about the start of the 2023 season.
Field training videos are available

(

click here

)

– but we will be offering in-person training on several occasions in our lab on the URI Kingston campus on several dates. You need to only attend one session:

Thursday, May 18th at 6 pm

Saturday, May 20th at 9 am (CANCELLED!!!!)

Wednesday, May 31st at 6 pm
To register for a session, please complete this form!

Participation in or at least review of the classroom session materials is highly recommended to help you learn about the program, water quality and what and why we monitor (see here for the classroom videos).
Dismiss message
Important
New volunteers should participate in classroom training, and are REQUIRED to participate in field training, preferably in person. Virtual training options may be possible, but prior approval is needed.

Dismiss message
Contact
Please call Elizabeth (401-874-4552) with any questions or concerns.