Get certified while on campus! Classes are offered to URI students and the surrounding communities. All aquatics certifications are taught by American Red Cross-certified instructors.
PRICING / DETAILS / REGISTRATION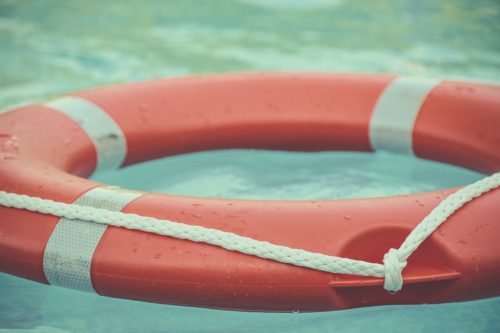 Traditional Courses
All content is taught on-site at the Tootell Aquatic Center during scheduled course time. All courses are traditional unless otherwise noted.
Blended Learning Courses
Course content alternates online simulation learning with in-person water skills sessions. The online simulation learning is completed outside of class time, while the in-person skills sessions are completed at the Tootell Aquatic Center during the scheduled course time. All registrants will receive an email one week prior to the start of the class with a link to the American Red Cross online course material. Assigned lessons must be completed prior to the first date of the in-person class.
Please note that participation in a certification class does not guarantee certification. All skills related to the certification must be properly demonstrated, as defined by course outline, in order to receive certification. If the minimum enrollment for any safety course is not met three days prior to the scheduled start date, the class will be canceled.
Your health and wellness is our top priority, we have restructured our Lifeguard Certification Programs and are following all the recommendations put forth by the state of RI and the Centers for Disease Control and Prevention.
---
Current Certifications Offered to URI Students & Community Members
Professional Rescuer CPR/AED with First Aid (ProfessionalR (eLearning 3 hours & In-person training 3.5 hours)
URI Student & Community Member Rate $90 / Community Non-Member Rate $112
Course 1 Wednesday, September 21st, 4:30-8pm
Course 2 Tuesday, September 27th, 4:30-8pm
Course 3 Thursday, September 29th, 4:30-8pm
Course 4 Monday, October 3rd, 4:30-8pm
Course 5 Wednesday, October 5th, 4:30-8pm
Course 6 Tuesday, October 11th, 4:30-8pm
Course 7 Thursday, October 13th, 4:30-8pm
Course 8 Tuesday, January 31st, 4:30-8pm
Course 9 Thursday, February 2nd, 4:30-8pm
Course 10 Monday, February 6th, 4:30-8pm
Course 11 Wednesday, February 8th, 4:30-8pm
Lifeguard Review Course & Lifeguard Instructor Review Course: (13 hours)
URI Student & Community Member Rate $175 / Community Non-Member Rate $200
Course 1 Saturday, September 25th, 9am-5:30pm
Course 2 Saturday, March 25th, 9am-5:30pm
Course 3 Saturday, April 22nd, 9am-5:30pm
Course 4 Saturday, May 6th, 9am-5:30pm
Lifeguard Training Course: Blended Learning (20 hours)
URI Student & Community Member Rate $250 / Community Non-Member Rate $300
Course 1 Tuesday/Thursdays February 21st – March 7th, 2023, 5-9pm
Course 2 Monday/Wednesday April 10th – April 24th, 2023, 5-9pm
Course 3 Monday-Friday April 10th – April 14th, 2023, 9am-2pm
Course 3 Monday, Wednesday, Friday May 31st – June 9th, 2023, 4:30-8:30pm
Junior Lifeguard Training Course in-person learning 30.75 hours ages 11-14
URI Student & Community Member Rate $300 / Community Non-Member Rate $350
Tuesday/Thursdays March 21st – May 4th, 2023, 4:30-6:30pm
Lifeguard Instructor Course (24 hours)
URI Student & Community Member Rate $300 / Community Non-Member Rate $350
Tuesday/Thursdays April 25th – May 9th, 2023, 4:30-8:30pm
Water Safety Instructor Course: Blended Learning
Community Member Rate $300 / Community Non-Member Rate $350
Tuesday/Thursday September 13th – October 6th, 2022, 6-9pm
Tuesday/Thursdays February 28th – March 28th, 2023, 6-9pm