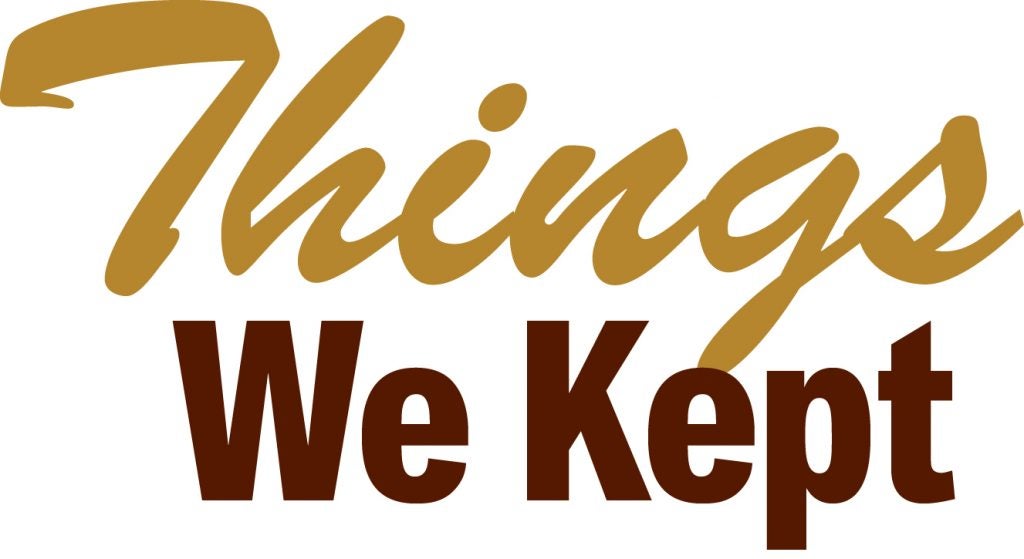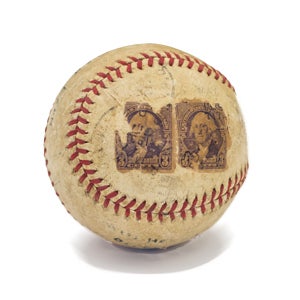 Ball
A baseball, decorated and later donated by the late Helen Leon Matthaei '41, from a 1939 game in which URI beat New Hampshire 2-1.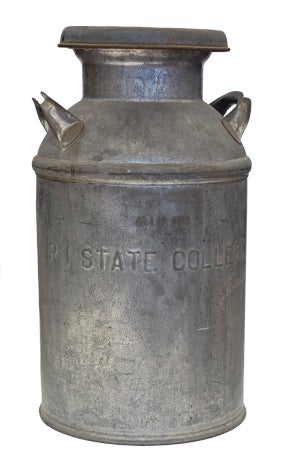 Milk Can
From the early 1910s, just after the Rhode Island College of Agriculture and Mechanic Arts became simply Rhode Island State College, comes this reminder of URI's roots. Students likely used this jug to hold milk from campus cows.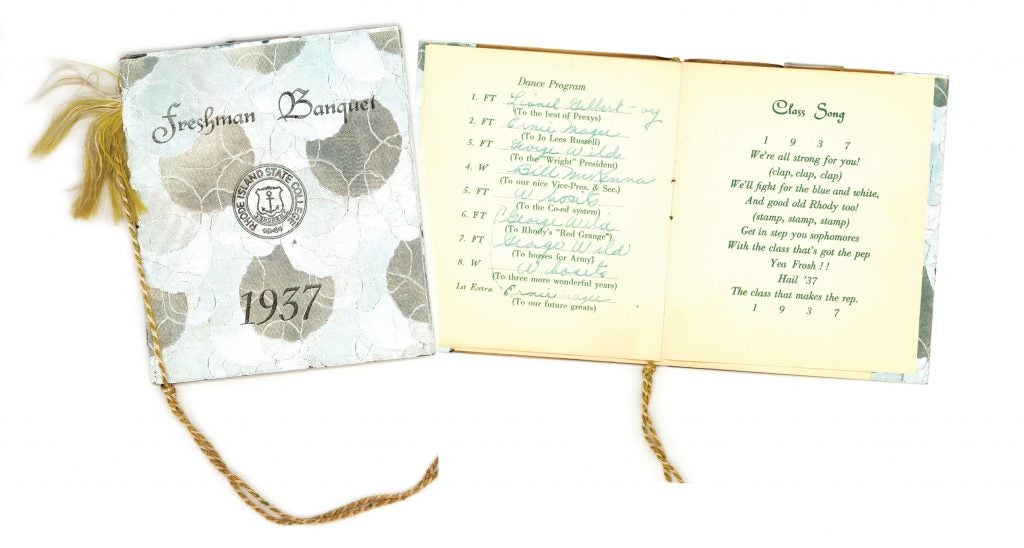 Dance Card
This ornate program for the 1937 Freshman Banquet belonged to Marguerite "Peggy" Regina (McEnneny) Masterson '37, who had no problem finding dance partners. Thanks to her daughter, Carole (Masterson) Lamendola '77, for loaning it to us.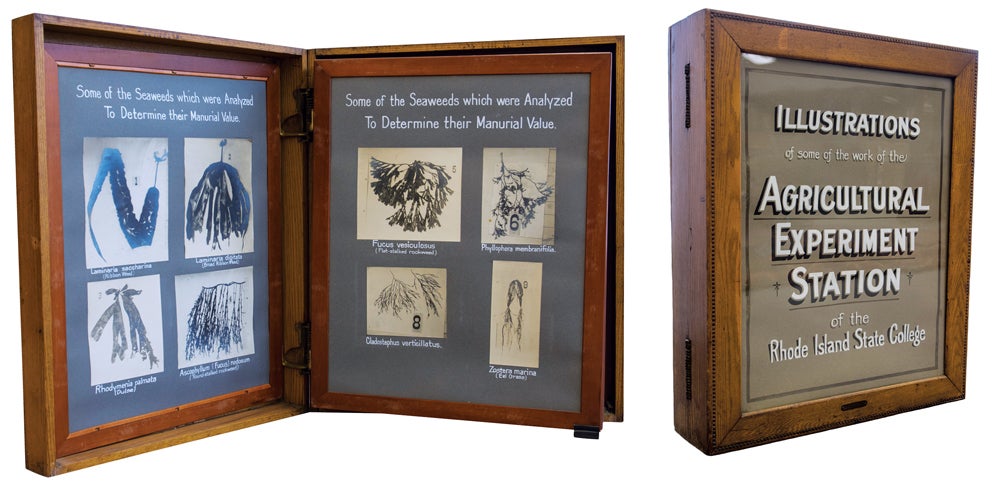 Lecture Exhibit
The Powerpoint of its time, this early 1920s three-foot-high presentation case contained photographs of experiments performed at the Agricultural Experiment Station at Rhode Island State College, along with detailed explanations of their results. Professors would have taken it on the road when presenting to farmers and other institutions.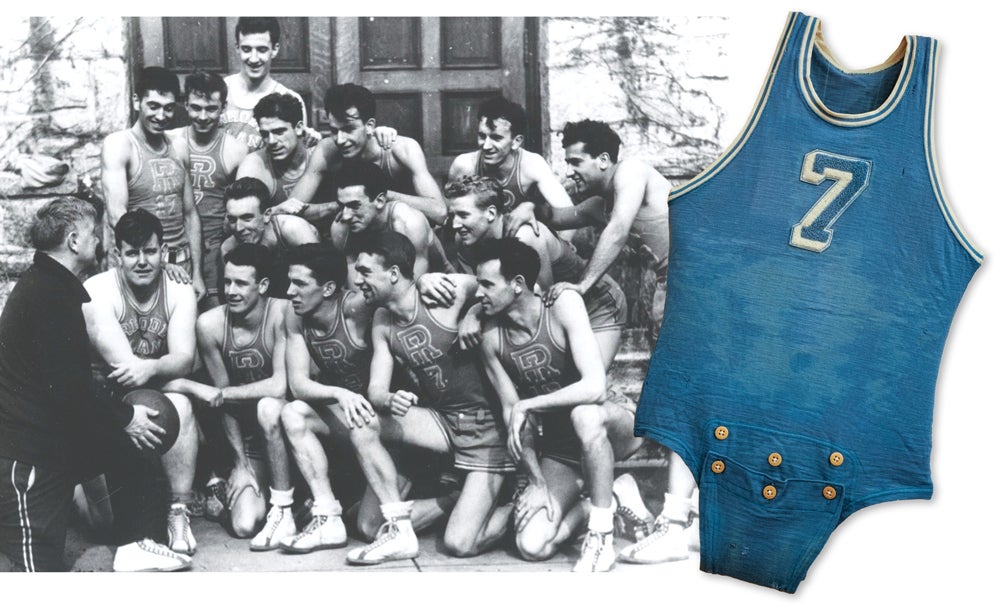 Men's Basketball Jersey
This 1940s jersey belonged to Stanley John Stutz '42, a star member of Coach Frank Keaney's basketball team. At the time, he went by the name Modzelewski, but was known by the catchy monicker Stan Stutz during his successful pro career. Above, Stutz (front row) and teammates get a pep talk from Coach Frank Keaney on the steps of Rodman Hall—the armory-turned-gymnasium where Keaney invented the fast break, forever changing the game. The jersey is part of a textiles exhibit at Quinn Hall this year.

Japanese Ceremonial Sword
At the close of World War II, this sword was presented to Brigadier General Elliott R. Thorpe '19, Hon. '51, then chief of counterintelligence on General MacArthur's staff and stationed aboard the USS Missouri. It was 1945 and the sword, presented by Thorpe's opposite number on the Imperial staff, marked the formal surrender of Japan. Thorpe later gifted it to URI.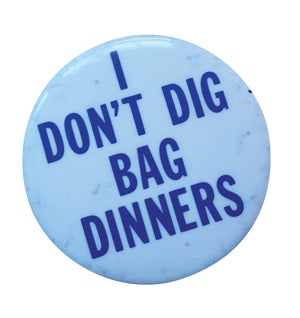 Student Pin
Robin Winter '83 has kept this pin since her freshman year. "Food fights in the dining halls were a Halloween tradition, and of course the school was trying to put an end to them. That year, the administration gave out these pins, closed the dining halls for that one night, and gave us bag dinners. We were supposed to dislike the bag dinners so intensely that we would never have food fights again."
Branding Iron
Once used to brand animals, this iron was in storage when an enterprising facilities staffer dug it out in the 1970s. Rewired, it was used to "brand" the computers that had started to become ubiquitous around campus, guarding against theft.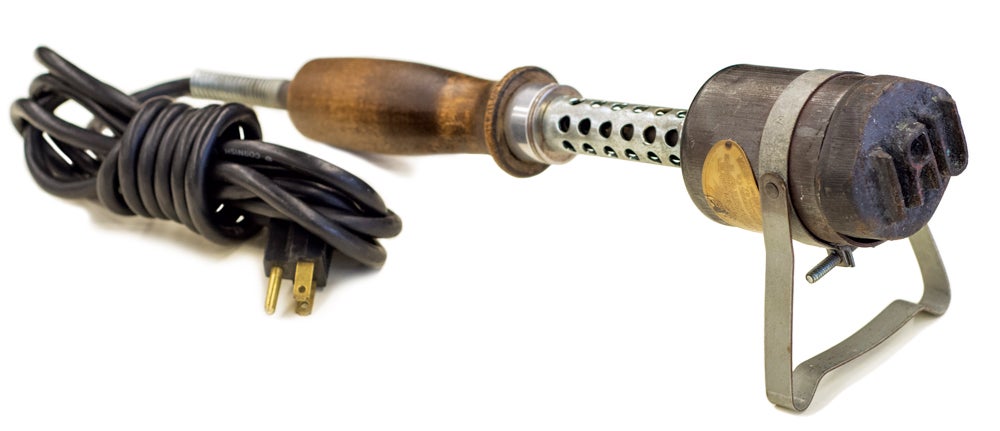 Time Capsule
This box, buried in 1890 under a cornerstone of Davis Hall, was retrieved for URI's centennial in 1992. It contained documents related to the college's founding, and an Indian head penny.