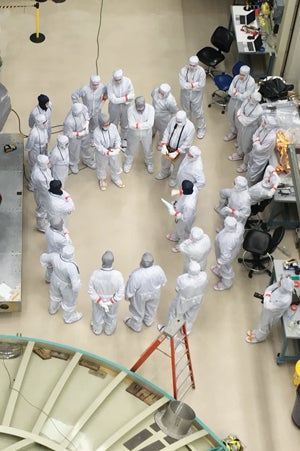 By Nicole Maranhas
Lawn mower, eighth grade. It's one of the first machines Lockheed Martin engineer Jim Harris '77 remembers tearing apart, trying to figure out how the motor worked. "I would do that occasionally—take things apart and never get them put back together," he says with a laugh. His father, a naval officer who had moved the family to Rhode Island in 1968, took notice when it was time for his son to apply to colleges, encouraging him to study engineering. "He thought it would be a good path for me," says Harris.
Simple story, as Harris tells it. He wasn't a kid dreaming of spacecraft and asteroids, comet samples, dives through the rings of Saturn. He didn't have grand ambitions to help unlock the keys to the solar system. Those were just in the stars.
Bennu has come almost as close to earth as the moon. It is an unusual asteroid, notable for the fact that it is both carbon-rich and relatively accessible, with a large-enough diameter (500 meters) and near-Earth orbit that make it the chosen target of a NASA sample collection mission launched in September 2016. The mission will be the first-ever U.S. sampling of an asteroid and scientists' first look at some of the most primitive organic compounds in our solar system. Unlike meteorites, which become compromised when they enter the Earth's atmosphere, the Bennu sample will provide a pristine relic, one expected to reveal groundbreaking clues about the existence of water on our planet and the beginnings of life on Earth.
Now journeying to Bennu, NASA space probe OSIRIS-REx (Origins, Spectral Interpretation, Resource Identification, Security-Regolith Explorer) will reach the asteroid in 2018 to begin tracking its orbit, outfitted with a camera suite, mapping and measurement systems, and the device at the heart of the mission: a touch-and-go sample acquisition mechanism (TAGSAM) designed by Harris. The device will be used to collect a sample of regolith, the loose layer of 4.5 billion-year-old rubble and dust covering the asteroid's surface.
The mission will also help pave the way for future spacecraft and extraterrestrial mining expeditions. "Space is a very harsh, very challenging environment," says Harris. The launch of the OSIRIS-REx mission and the development of TAGSAM, a design feat more than 10 years in the making, have redefined the boundaries of what is possible in outer space—and in a dirt driveway, as Harris found out years ago.
After graduating from URI with a degree in mechanical engineering, Harris narrowed it down to two job offers: one at Boeing, headquartered in Seattle; the other at a Denver, Colorado-based aeronautics equipment manufacturer then known as Martin Marietta, which would merge with Lockheed Corporation in 1995 to become Lockheed Martin, where he has spent his career. At the time, he didn't realize he was making a lifetime decision. "I picked Denver," says Harris. "I liked to ski."
He started at the drafting boards, assigned in his first year to make drawings for one of the external fuel tanks on the NASA Space Shuttle. He remembers traveling to the Michoud Assembly Facility in New Orleans, standing on the factory floor, watching the construction of the 154-foot structure in awe. "I think that was the moment I caught the space bug," he says. "It was daunting, very inspiring."
More spacecraft followed. Harris was an engineer on Lockheed Martin and NASA's Stardust sample return capsule, which launched in February 1999 to collect interstellar dust particles from the comet Wild-2. He also designed components for the thruster clusters, main engine assembly plate, and external helium tank of Cassini, a robotic space probe currently completing a series of 20 orbits around Saturn. At the end of April 2017, Cassini will embark on its "Grand Finale" with a flyby of the moon Titan before making a sequence of historic passes into the still-unexplored gap between rings and planet. Throughout its mission, Cassini has captured otherworldly images of Saturn: cloud-speckled moons and sleek, glowing rings; a north-polar hurricane blooming like a rose; and hovering in the black beyond, the intense light of a pinprick Earth.
But back to 2011 and a new design challenge: how to collect a sample from an asteroid traveling at 63,000 mph. Traditional methods would not work in microgravity, where fluffy regolith merely floats and scatters upon contact. Taking inspiration from previous research on the use of compressed nitrogen as a surface stimulator, Harris took to his dusty driveway to experiment, jerry-rigging a shop vacuum and a Solo cup to send a shot of air to the ground and blast a sample of driveway dirt into the cup, his 13-year-old son standing by with a camera to capture the results. ("I believe my son's response was something along the lines of, 'They pay you for this?'" recalls Harris.) It worked. A co-worker nicknamed his creation "muucav," a reverse vacuum.
The early prototype may have been simple, but TAGSAM's final design concept remains essentially the same, conceived as an 11-foot positioning arm and sample head, a camera, and storage canister. Once OSIRIS-REx has maneuvered into formation, the sample head will touch down briefly onto the asteroid, just long enough to inject a blast of nitrogen onto the surface and force the regolith sample into a collection chamber—capturing a camera image of the sample in order to gauge the amount collected—before sealing the regolith in the canister for safekeeping until its return to Earth in 2023. Should the procedure prove unsuccessful the first time, TAGSAM has enough nitrogen supply to make two more attempts.
It is a long time to wait to see his invention at work—the touch-and-go sampling is currently scheduled to take place in mid-July of 2020—but the suspense is offset by the success of rigorous pre-launch testing, using everything from popcorn to Styrofoam to lava rock as dummy samples to help prepare for the types of materials that may be found on Bennu's surface. TAGSAM's performance was also tested in a variety of extreme temperatures and low- or zero-gravity environments. In each of these, it was able to capture samples much greater than the two ounces, or 60 grams, needed.
Sterility was another key design and construction challenge. Engineers had to avoid working with the adhesives and nylons that could leave traces of contaminants inside the device; all human and organic materials in contact with OSIRIS-REx and TAGSAM during assembly were logged so that any potentially false organic material can be detected in the future sample.
Harris plans to have retired by the time the OSIRIS-REx mission is complete, but he hopes to be watching when it returns to Earth, as he was when the Stardust capsule landed in the Utah desert in 2006. He remembers standing in the predawn cold, watching a star grow brighter on the horizon—the capsule traveling at 28,000 miles per hour with its cargo that would change our understanding of comets. "Seeing that was pretty special," says Harris. "It's a great sense of accomplishment to work on something and see it launch—and then see it come back."
There is something else about Bennu.
Every six years, the asteroid passes within 100,000 miles of Earth, on a course that some predict could potentially see Bennu collide with our planet in the next century, sometime after 2,135. Scientists have calculated the odds at 1 in 2,700, enough to pique the interest of both researchers and doomsday theorists, the latter of whom would argue that the OSIRIS-REx mission is a key step in protecting the future of life as we know it.
Harris isn't a doomsday theorist. By credible accounts, "it's a low probability," he says. Still, OSIRIS-REx will remain on track with the asteroid for another two years after the sample collection is complete, observing and performing measurements to better predict the asteroid's future path. Even as scientists downplay the likelihood of impact, Bennu remains a PHA—potentially hazardous asteroid, a classification that has generated increased media and end-of-world chatter among those who can't resist a Hollywood spin.
Perhaps it was that early morning in the Utah desert, watching a space probe parachute to the ground with its haul of comet dust at the end of the Stardust project, that leaves Harris with little need for Hollywood. "I appreciate that not everyone gets to experience this," says Harris. Again, as far as he's concerned, it's a simple story. "It's my job, and I try to do it well. It's a privilege."•