Micro-Ultra Centrifuge
The Sorvall Discovery M120 SE Micro-Ultracentrifuge has quiet operation and a compact design with a maximum speed of 120,000rpm. It incorporates functionality to simplify rotor loading, instrument set-up, and instrument operation.
Ultra Centrifuge
The Beckman Optima™ L-100 XP ultracentrifuge provides an on-board computer, Optima eXPert software and a touch screen. It delivers functionality, optimized user efficiencies, and fast turnarounds.
High Speed Centrifuge
The Beckman Coulter Avanti-J-E high-speed centrifuge comes with three fixed angle rotors:
JA-10, 6 x 500 and 250ml adapters,10,000rpm,
JA-20.1, 32 x 15ml, 20000rpm
JA-20, 8 x 50ml, 20,000 rpm
Benchtop Centrifuge
The Heraeus Multifuge X3R is a compact benchtop centrifuge.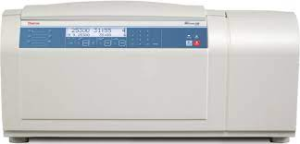 The user-friendly control panel makes it easy to pre-set the speed, RCF value, running time, temperature, and running profile (acceleration and braking curves). You can choose between the display of speed and RCF or the entry mode. With the help of the PULSE key, you can also centrifuge a sample for just a few seconds.
Microcentrifuge
The Eppendorf Centrifuge 5417 R is a refrigerated bench-top centrifuge. Eppendorf Micro Test Tubes can be centrifuged at 20800 rcf (14000 rpm). It is possible to attain an rcf of up to 25000 using a special 24-position rotor. For special applications a swing-bucket rotor is available with 8 positions for centrifuging Eppendorf Micro Test Tubes at a maximum rotational speed of 10500 rpm (11700 rcf). PCR tubes can be centrifuged in a rotor which can accommodate six 8-tube strips.
Tycho NT.6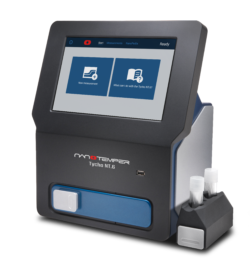 The Tycho NT.6 verifies protein quality by looking at the structural integrity (or foldedness) of a protein. Changes in the intrinsic fluorescence of the sample are measured as a thermal ramp is applied. Changes in the fluorescence signal indicate transitions in the folding state of the protein. The Tycho can be used to study the stability of protein samples in different buffers or at different pH values. The measurement is completed in three minutes and uses a capillary tube to hold the sample.
Biacore T200 SPR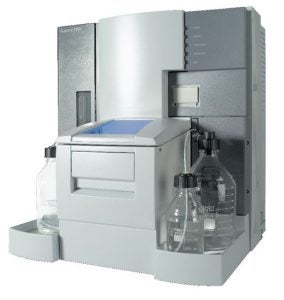 The Biacore T200 is a surface plasmon resonance instrument which can be used to characterize molecular interactions between biomolecules ranging in size from ions to viruses. The Biacore software provides a range of tools for kinetic analyses. These analyses can be performed using a multicycle approach (many samples against one ligand or when different ligands are immobilized), or alternatively, using fast, single cycle kinetics.