by Siobhan Richards
KINGSTON, R.I. — Nov. 8, 2021 — URI Men's Lacrosse started off their fall season with a 15-7 win against Bridgewater State and have continued to dominate with an undefeated record.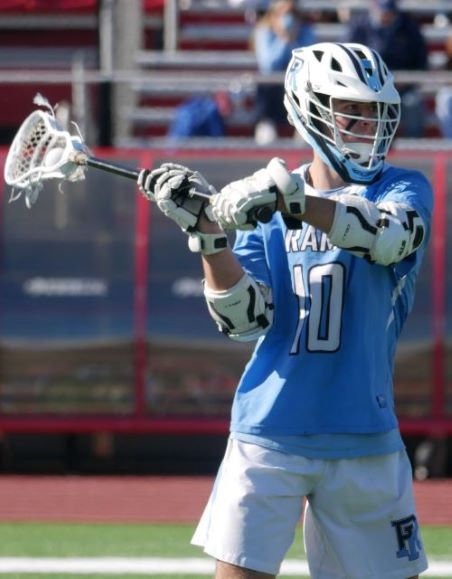 The team was previously ranked 14th in the nation prior to the pandemic, and president Andrew Sajdak has high hopes for his team this year.
"We were unable to play many games last year due to travel restrictions," Sajdak said. "This year, we are looking to bounce back from COVID and return to one of the top club teams in the country."
Rhody had previously won the Division II Continental Lacrosse Conference in 2019 and even qualified for Nationals. Senior Tino Fiore was a member of the championship team, and emphasized how much the team has grown since then.
"I feel that in my time here, our executive boards, captains, and coaches, have really seen how much potential this program holds and they work their hardest for us to reach that potential," Fiore said. "I genuinely believe that the team gets better every year."
Both Sajdak and Fiore joined the team as first-year students and have continued to play throughout their college experience.
"The best part about being on this team is my teammates and also being able to play a high level of lacrosse without an overwhelming schedule," Sajdak said. "It is the reason I've met some of my best friends and it's something to look forward to doing during the week," Fiore added.
The team culture has helped to elevate the team to new levels. Despite graduating seven seniors in 2021, Club Lacrosse continues to come out on top.
"What makes our team so special is our next man up mentality. We have a lot of young guys with a lot of talent and it's always really fun to see who steps up in games to make big plays," Fiore said.
Lacrosse has been eagerly awaiting this season, especially since they were unable to compete much last spring due to the university's COVID-19 protocols.
"I am looking forward to competing against the best club teams in the country, qualifying for nationals, and making a run at the championship," Sajdak said.
Men's Lacrosse will continue to train over the winter months as they prepare for conference play in the spring in hopes of securing another berth to the MCLA National Championships in Round Rock, TX May 9-14, 2022.
This story was written by Siobhan Richards, a senior majoring in Public Relations, Sports Media, and Journalism at the University's Harrington School of Communication and Media.