by Siobhan Richards
KINGSTON, R.I. — Nov. 1, 2021 — "Disky Business," better known as the URI Women's Ultimate Frisbee team, began their season on Oct. 2 in a scrimmage against Brown University. It has been over a year and half since the team has played competitively due to the COVID-19 pandemic.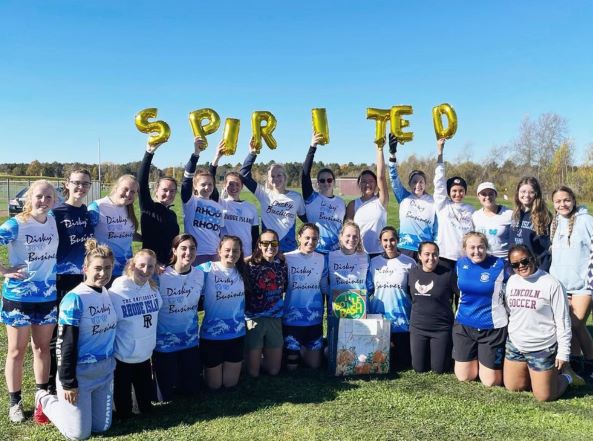 Team President Abby Ferrara has been involved in the sport since her senior year of high school and got involved with the team at URI right away.
Although she joined with prior knowledge and experience playing, Ferrara says that it is not a requirement to play.
"A lot of our players have never played the sport before joining this team, but many graduate from URI with a sport they now love and many friendships," Ferrara said.
The team has broken up their season by semester. In the fall their main focus is teaching players the basics and working on team chemistry. Then they transition to the spring where they compete in sanctioned tournaments that contribute to their ranking. This balance between competition and fun has created a uniquely close team environment.
Women's Ultimate was started in 2007 after separating from the coed team. Coach Amy Goldblatt was a part of one of the first women's teams.
"I joined the team in the fall of 2007," Goldblatt recalled. "I played all four years of my college career making lifelong friends. For most of my college experience, we were always trying to learn and grow as a team."
Each year Disky Business competes in sectionals at the end of their spring season to qualify for regionals before qualifying for the national championship. Although the team has yet to make it to a championship, the team is hopeful to host sectionals this year.
"I am most looking forward to seeing these women grow," Goldblatt said. "Having coached this team for three years now, I have watched the freshmen that I coached become the captains of the team now. I love seeing their leadership grow and I can't wait to see what is in store for us this spring."
Despite the lack of competition last season due to the pandemic, the team has managed to stay close. The Ultimate Frisbee community is quite extensive, with a multitude of leagues and opportunities to continue playing, even after college.
"You will start making connections and getting to know so many people through the different teams you play on," Ferrara said. "So many of us can say that we've found lifelong friends when it's time to walk across the stage, and that is something special."
As the fall season is just starting up, Ferrara says the team is itching to get back on the field.
"I'm looking forward to actually being able to play again and spending time with my friends, especially the large number of them that will be graduating in the spring," Ferrara said. "We lost so much time together because of COVID so I'm looking forward to making up for lost time as much as we can."
This story was written by Siobhan Richards, a senior majoring in Public Relations, Sports Media, and Journalism at the University's Harrington School of Communication and Media.