Saturday, October 13, 2018
10:00AM-4:00PM (Rain or Shine)
URI Narragansett Bay Campus
215 South Ferry Road, Narragansett, RI 02882
Join us for a day of family fun to celebrate the present and future of ocean science and exploration at the University of Rhode Island's Narragansett Bay Campus, home to the highly acclaimed Graduate School of Oceanography. Come rain or shine for tours, exhibits, demonstrations, and entertainment.
With this year's theme of "Ocean Science for the Ocean State," the open house will feature our aquarium, a popular touch tank for kids, interactive ocean science exhibits, a wave tank demonstration, Narragansett Bay classroom shoreline investigations, Coastal Institute art exhibit, and tours of the Research Vessel Endeavor, Inner Space Center, Marine Geology Samples Lab, Rhode Island Nuclear Science Center, and more.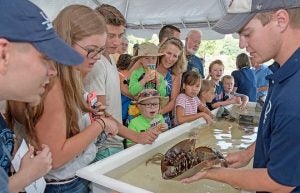 Whether you're looking for hands-on activities for kids or opportunities to speak with ocean experts about the latest science, there is something for everyone!
Tour Registration
The following free tours require advance registration:
R/V Endeavor Ship Tours – Register now
Nuclear Reactor Tours (Rhode Island Nuclear Science Center) – Register now
Inner Space Center Tours – Register now
Coastal Investigations (Narragansett Bay Classroom) – Register now
Plankton Action Drawing Workshop – Register now
Oceanography Career Workshop ("Why Oceanography?") – Register now
Greenfins Aquaculture Facility: Yellowfin Tuna lunchtime feeding – Register now
Registration ends on October 12th at 5:00PM. Reservations are limited, first-come, first-served. Please have your registration printed or saved to your smartphone on Saturday, to ensure you arrive for the correct tour time slot.
Other facility tours (which do not require reservations) will include:
Marine Science Research Facility Aquarium Tours
The Marine Geological Samples Lab
Coastal Institute Fading Landscapes Art Exhibit
Mesocosm Facility
Ocean Engineering Wave Tank Demonstration
EPA research boat
Exhibits
Dozens of interactive exhibits will introduce you to many examples of the cutting-edge work taking place at the Narragansett Bay Campus:
Local research in Narragansett Bay with be highlighted including marine mammal sightings, changes in local fisheries, lobster tracking, the big impact of plankton, measuring plastic pollution, and the impacts of extreme hurricanes.
In the area of deep-sea oceanographic research, there will be demonstrations of remotely operated vehicles, opportunities to use various oceanographic sampling equipment, and earthquake demonstrations. Don't miss the hourly Volcanic Eruptions!
For those considering a career in ocean science, many GSO students will be on hand to discuss their work, and we are hosting a career workshop with GSO students and alumni appropriate for high school students, college students, and mid-career professionals alike.
The Coastal Institute will host the work of Rhode Island artist Lori Jeremiah in an exhibit called Fading Landscapes: the fragility of coastal beauty.