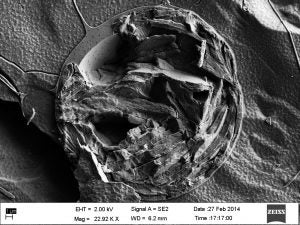 The Rhode Island Consortium of Nanoscience and Nanotechnology (RIN2) is a multi-user materials characterization facility that enables cutting-edge academic and industrial research and education through access to advanced material characterization techniques. Specific objectives of RIN2 are:
Offer advanced material characterization to users at URI, other academic institutions, non-profits and industries: scanning and transmission electron microscopy, X-ray diffraction, confocal Raman microscopy, high throughput confocal fluorescence microscopy, Fourier transform infrared microscopy.
Provide theoretical and hands-on training on these tools to the next generation of researchers and technologists, at the pre-college, undergraduate, graduate and post-graduate level.
Enable reaching the highest standards of research in materials science and nanotechnology by expanding the available technique portfolio on an as-needed basis and advising from expert RIN2 personnel, up-to-date with the pertinent literature
Connect researchers from different disciplines to solve grand challenges
The Rhode Island Consortium for Nanoscience and Nanotechnology is a URI core facility. To know more about other core facilities available at URI, and obtain information helpful for research proposals and development of new projects, please visit this link. The Rhode Island Consortium for Nanoscience and Nanotechnology is supported by the University of Rhode Island College of Engineering and the National Science Foundation EPSCoR Cooperative Agreement #OIA-1655221.