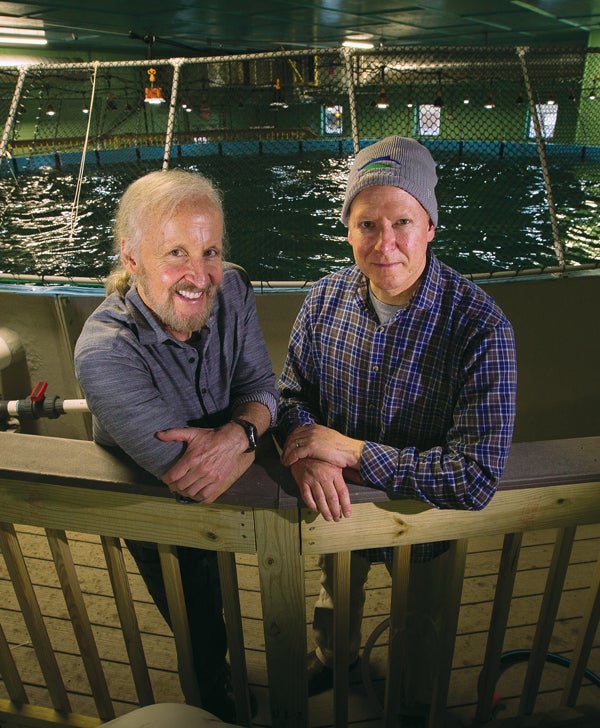 As worldwide demand for sushi-grade tuna grows, a URI professor and an entrepreneur have teamed up to sustainably produce yellowfin. In a huge, purpose-built tank on URI's Bay Campus, they are now successfully breeding them in captivity.
By Todd McLeish
When Peter Mottur '91 was fishing off Rhode Island's Sakonnet Point in 2006, he unexpectedly hooked a small bluefin tuna, and the surprise and excitement of the ensuing battle provided an adrenaline rush that he remembers clearly to this day. The experience was addictive, and Mottur found himself seeking more and more opportunities to fish for tuna up and down the East Coast.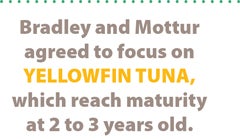 It also inspired him to learn more about commercial and recreational tuna fishing and the natural history of bluefin, yellowfin and other tuna species. What he learned was alarming.
Consumer demand for wild tuna has skyrocketed in recent decades as interest in sushi and other popular tuna dishes grows around the world. The commercial Atlantic bluefin tuna fishery generates about $230 million annually in the United States, most of that in New England. But it has declined by about 90 percent in the last 20 years as stocks of the fatty, high-value fish, which grow to more than 6 feet in length and can live for up to 40 years, have plummeted.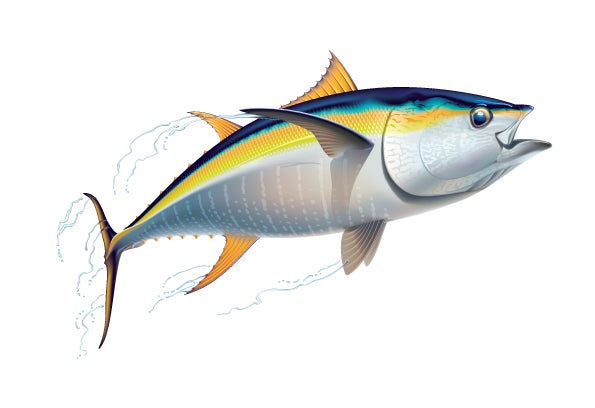 "Bluefin tuna is a hard fish to catch, but they're also really hard to find," Mottur says. "They've experienced a staggering decline." The result? Increased pressure on stocks of yellowfin, bluefin's smaller—but still large, powerful and highly prized—cousin.
Mottur wondered if aquaculture, which now meets the demand for half the world's fish consumption, could be a more sustainable approach. So he turned to his alma mater, seeking an aquaculture expert, and landed in the office of Professor Terry Bradley, M.S. '79.
"I've always enjoyed working with fish," says Bradley, who joined the URI faculty in 1984. "They're fascinating creatures; there's so much diversity and variety." The professor, meanwhile, had reached similar conclusions to Mottur about the sustainability of wild harvests. "Having worked on fishing boats and seeing catches decline, and how difficult it was to make a living, I figured aquaculture was the way to go."
Bradley's URI aquaculture research experience has been extensive and varied. He studied several factors important to raising salmon— including the physiological process they undergo when migrating from freshwater rivers to the ocean and the olfactory receptors they use to navigate from the ocean to their natal stream—and is a partner in a New Zealand salmon farm. He also developed an acoustic conditioning system so salmon that escape from their ocean-based pens can return when they hear an underwater "dinner bell."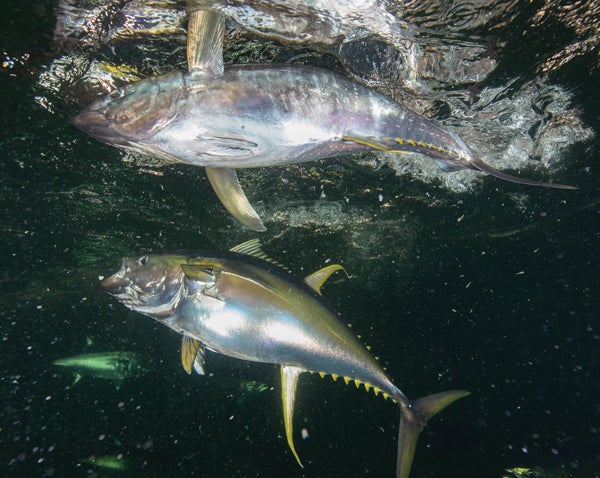 In addition to his work with salmon, he conducted research on transgenic trout that put on more muscle at a faster rate than ordinary trout, and pioneered an aquaculture system for raising black sea bass. But he had never experimented with tuna. He was excited to give it a try.
"Tuna are a finite resource. There just aren't enough wild fish out there," he says.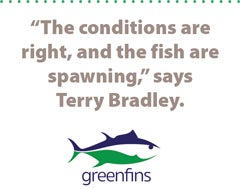 According to Bradley, companies in Australia, Mexico and several Mediterranean countries are doing what he calls "tuna ranching" by capturing wild juvenile tuna, putting them in pens and raising them to harvest size.
"Rather than farming, they're capturing wild fish and fattening them up," says Bradley. "It's still depleting the wild population, and has had a long-term impact on tuna stocks. What we're trying to do is produce fish in captivity—and take the pressure off the wild stocks."
The challenges of raising tuna in captivity are many. Only a few organizations have successfully bred tuna in land-based tanks, including Kinki University in Japan, Clean Seas in Australia and the IATCC in Panama.
"The key is to provide the right conditions so they'll spawn on a regular basis," explains Bradley. "You have to provide excellent water quality—they won't tolerate anything else. And they've never seen any type of obstruction in their water before; they've never had a limitation on where they can swim, so living in a tank is a totally new experience for them."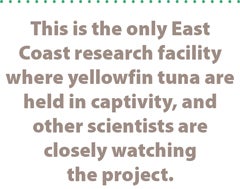 Since bluefin tuna don't reach sexual maturity until they are at least 8 to 10 years old, Bradley and Mottur agreed to focus on yellowfin, which reach maturity at 2 to 3 years old. They embarked on a long-term research partnership, now in its sixth year and bearing tiny fruit: their first yellowfin tuna eggs, collected just recently.
Mottur is something of a serial entrepreneur who has had success in several ventures. Although he earned a marine science degree from URI, his first jobs were in the broadcast industry, producing television documentaries for ABC, Discovery, A&E and other channels. He later started his own production company, where he developed a technology to control robotic cameras and stream the video over the internet and other private networks.
"My customers were initially a lot of broadcasters that used our technology to control cameras set up in remote locations," he said. "Then we got a lot of interest for military and other high-end security applications." Mottur eventually sold his business and started another company, Vizsafe, where he developed a crowdsourcing and communication platform for sharing information to improve safety and security at sports and entertainment venues, as well as other large facilities. While he continues to run Vizsafe, he formed Greenfins in 2011 to focus on sustainable tuna aquaculture.
The first step was to construct a test tank large enough to hold yellowfin tuna so that Bradley could begin to study how to rear and breed them. Built in the Blount Aquaculture Research Lab on the Bay Campus, the 20,000-gallon tank was completed in 2013, and Mottur and Bradley went to sea to capture wild tuna for the tank.
"The original strategy was simply to see if we could keep them alive," says Mottur. "There was a lot of trial and error in the husbandry, and it took us a couple of years, but we eventually got good at it."
However, they knew that this test tank was not going to be large enough to facilitate a breeding program. As highly migratory fish that swim thousands of miles every year, yellowfin do not adapt well to long-term confinement in tanks. Some of the test fish contracted a condition called puffy snout syndrome, in which a growth occurs on the heads of captive tuna.
Taylor Voorhees, M.S. '15, studied puffy snout for his master's thesis. He spent two years observing the behavior of the fish, monitoring the tank conditions, collecting tissue samples, studying fish diseases, and surveying other facilities around the world.
"We figured out a lot of things that puffy snout wasn't, a few things that it was, and a few things that it is likely to be," says Voorhees, who now works for the Seafood Watch program at Monterey Bay Aquarium in California.
Voorhees' top finding: the size of the tank plays an important role in susceptibility to puffy snout. He concluded that it is unlikely that a tuna with puffy snout syndrome would breed in a tank the size of the one in the Blount Lab.
So Mottur and Bradley began working with URI to build a dedicated facility with a larger tank. Greenfins provided approximately $1.7 million in private funding to construct a new building at the Bay Campus to house a 120,000-gallon tank. Completed in early 2017, it has solved the problem of puffy snout syndrome and many others, allowing Bradley's tuna husbandry research to progress rapidly.
"The conditions are right, and the fish are spawning," says Bradley. "We're collecting a limited number of eggs at this time and transferring them into incubators, and we anticipate more spawning soon. It takes one or two days for them to hatch, and then we transfer the newly hatched larvae into a larviculture system. That's where the real challenge starts—getting the larvae to begin feeding so they get the proper nutrition."
The early days are critical. "They have such a high metabolic rate and they grow so fast that if there's any slowdown in feeding, they die very quickly. We're still developing the techniques to bring them through the process."
As Bradley focuses on tuna husbandry practices, Mottur devotes his attention to the technology involved in running the facility.
"One thing I realized is that there's a lot of parallels between my systems integration work and this tuna work," Mottur says. "When developing and managing an operation like this, technology plays a huge role. There are sophisticated systems running life support, water quality monitoring, visual monitoring. We're trying to create conditions conducive to spawning, and technology is helping us optimize those conditions. A relaxed fish is a happy fish, and a happy fish is going to be inclined to spawn."
Because it is the only East Coast research facility where yellowfin tuna are held in captivity, other scientists are closely watching the project—quite literally, in a couple of cases.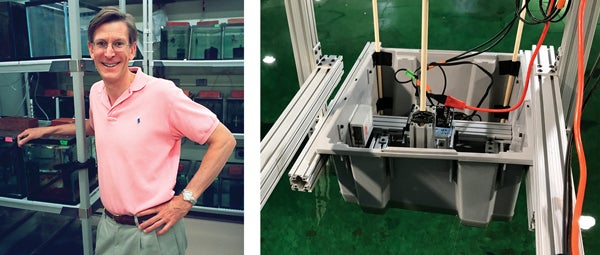 Harvard University Professor George Lauder, for instance, has a series of high-speed cameras set up around the tank. Lauder studies biomechanics and bio-robotics, and he is investigating the way the yellowfin move in an effort to design underwater vehicles with improved aquatic propulsion systems.
"When humans build things that move through water now, they have propellers, but fish don't have propellers," he points out. "They have a bending, flexible body, fins they can control, and they're quiet and efficient moving through fluid. If we can better understand what fish are doing, we can develop underwater vehicles that can perform better."
His cameras are capturing images that will help him create a computer model of a swimming yellowfin, which he'll use to design an oscillating propulsion system similar to the tuna's tail.
Then there's Jesse Daily, a research scientist at the Naval Undersea Warfare Center in Newport. He brings 30 cameras at a time to the tuna tank to capture images of the fish at multiple angles so he can reconstruct how they swim in three dimensions. His aim is to create what he calls "a bio-inspired robot" that can swim with the efficiency of a yellowfin—which would be no mean feat, given that yellowfin have been clocked swimming as fast as 50 miles an hour and can cross enormous distances, sometimes entire oceans.
"The current robots in use struggle with range—we want them to go farther," Daily says. "If we can come up with a robot that can swim or propel itself in a more efficient manner, that will give us more range."
Daily isn't confining his research to tuna. He is also studying the swimming of puffer fish, which are excellent at what's called "station keeping."
"If you need to stay in one place for four hours, you swim like a puffer fish," he says. "But if you need to go somewhere fast, you swim like a tuna."
Lauder and Daily both say they feel lucky to have access to the facility, which is within driving distance of their research labs. "Tuna are known for dying in captivity, so having someone who can actually keep them alive is extremely rare," says Daily. "It's close by, it's new, it's state-of-the-art, and most importantly, it's one of the only places of its kind in the world."
Bradley and Mottur have created a collegial environment for other researchers. "They have built something with a cooperative spirit, which has been wonderful for us," says Lauder. "I cannot emphasize enough how great it's been that they've opened their doors to us. As long as I'm welcome, I'll be going there often."
Of course, URI researchers enjoy the most convenient access. After less than one year of operation, the facility—official designation is the Greenfins Aquaculture Tuna Center of Excellence (GATCE)—has more than met its initial goals of creating unique research opportunities and providing hands-on experience for students. Almost a dozen URI graduate and undergraduate students currently work or conduct research at the facility.
Bradley and Mottur believe the facility may also have considerable commercial potential. Once they can demonstrate that they can breed tuna and rear their larvae to a size that can be shipped to other facilities, they are certain they can find industry partners.
"We already have potential clients looking for juvenile tuna that they can put into sea cages to raise them to harvest size," says Bradley. "They are anxiously waiting for juveniles, and we're trying to get to the point where we can supply them."
The market has been tested in Japan, where a single, eight-inch juvenile tuna raised in captivity goes for $100 to $125.
"We're proceeding as rapidly as possible," Bradley says. "But it takes time, and we're still fine-tuning the system."
Mottur is already thinking ahead to the next steps, and one alternative is to skip the intermediaries and build a "grow-out facility" in Rhode Island to raise the fish to market size. He envisions creating a new sustainable industry in the state that could create dozens of green technology jobs.
He also believes that there may be an opportunity to offer excess tuna larvae or juveniles from the URI facility to restocking programs to rebuild the wild tuna population. "A mature female yellowfin tuna can produce 350,000 eggs a day," he says.
But for now, Mottur and Bradley are focused on building a research and education program that will be a boon to URI and the state of Rhode Island.
"This facility could be a real lure to attract students to URI," Mottur observes. "This is a one-of-a-kind program that no other university offers, so it should become a good way to attract and retain good talent." •