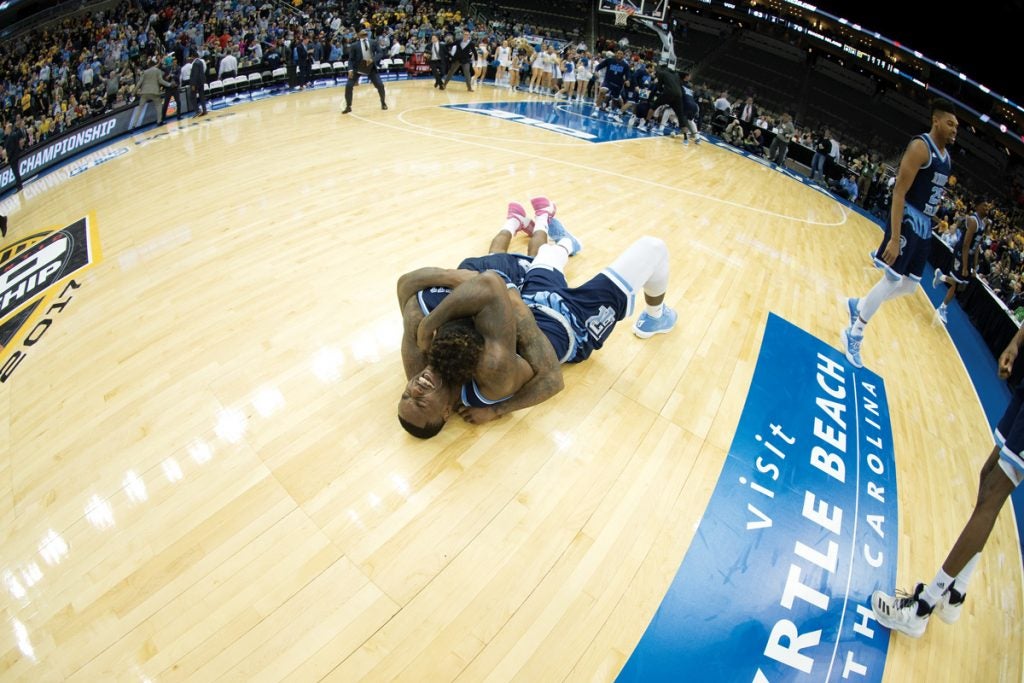 Rhode Island guards Jared Terrell '18 and Jarvis Garrett '18 embrace on the floor moments after the Rams defeated VCU 70-63 on March 12 at the PPG Paints Arena in Pittsburgh.
For the Rams, it was the second Atlantic 10 conference tournament title in program history. E.C. Matthews '18 was named the Most Outstanding Player of the A-10 Championship after averaging 19.3 points and 5.7 rebounds over the three games. Joining him on the all-championship team was Hassan Martin '17, who averaged 15.3 points, 6.3 rebounds and 2.0 blocks during the three-game run through the conference tournament.
The victory clinched an automatic bid to the NCAA Championship, Rhode Island's first trip to the dance in 18 years and ninth time in the tournament overall. Joined by hundreds of Rhody fans who made the cross-country trek, head coach Dan Hurley's team went out to Sacramento, Calif., as the No. 11 seed in the Midwest region and upset No. 6 Creighton, 84-72. The Rams never trailed in the game as freshman Jeff Dowtin '20 scored a career-high 23 points and Kuran Iverson '17 added 17 points to lead the team to its first NCAA tournament win since 1998.
In the Round of 32, Rhode Island fell just short against No. 3 Oregon, 75-72. Stanford Robinson '18 had a career night, scoring 21 points on 10-of-12 shooting from the floor, and Terrell added 15 points and six assists for the Rams.
"I couldn't be prouder, obviously, of these guys for what they've done for the great state of Rhode Island and our amazing fans," Hurley said of his team following the loss to Oregon.
Rhode Island finished its memorable season with a 25-10 record, marking the fourth most victories in a single season in team history. Martin—who won the league's Defensive Player of the Year honor for the second consecutive season—became the first player in league history to lead the A-10 in blocked shots for four consecutive seasons. Matthews, who will return for his senior season, was a third-team all-conference pick, and Dowtin became the fourth player in Hurley's five seasons at Rhode Island to earn all-rookie team honors for the Rams.