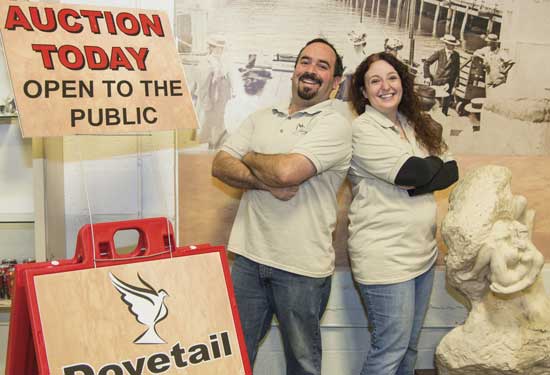 Antiques Rhodeshow
Melissa Ricci '02 and her husband Nick know lots of things you don't. Like, how to restore a 1905 Automatic Clerk Mansfield's Choice Pepsin Gum dispenser (wintergreen and blood orange flavors once available, 5 cents). Or, how to value the 2,000 dolls they took out of a collector's house in Cranston (it was supposed to be more like 750, but once you're there, you're there). Then there's how much a 1972 S. S. Kresge Batman action figure, still sealed in the original box, is worth ($3,000—surprise!).
Oh yeah, and Melissa, who studied music education at URI and talks faster and more engagingly than almost anyone you've ever met, also knows one other thing: how to run an auction. She went to school for it, after the couple, who'd been poking around estate sales and antique pinball machines for years, decided to redesign their lives.
Nick, who, like Melissa, grew up and still lives in Cranston, R.I., was the first to break from his day job as a graphic designer. The pair, with help from family, renovated a huge space in an industrial building close to home, even adding a food service counter for Aunt Linda's goodies—we're talking veal and peas right across from the auction block, a fine way to spend an evening, as their growing client base attests.
Melissa, meanwhile, took a year off from teaching middle school band. They just can't keep up, what with the two kinds of auctions they run—Monday "discovery auctions," and the monthly collector's auctions for the big ticket stuff—not to mention the phone calls for appraisals, pick ups and repairs. It's not unusual for a 9 p.m. call to send them off to Central Falls, where they might pick through a huge warehouse 'til midnight; or for Nick to find some rare collectible in someone's mother's attic. It's all an exciting voyage of discovery, of history and curiosities, Picasso and Dali, military parachutes and autopsy tools and the adrenaline in the room when Melissa's holding her gavel. They're hooked. Stop by Dovetail Auctions, and you will be, too.
—Pippa Jack
Dovetail Auctions
30 Webb Street, Unit 2
Cranston, R.I.
401.263.6220
dovetailauctions.com