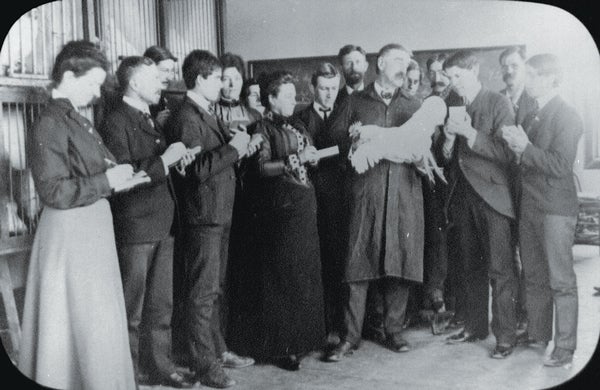 Have a funny idea for what's going on in this photograph from the University of Rhode Island library archives? Email your caption to pjack@uri.edu, or respond at uri.edu/quadangles by April 4, 2017.
December Winners
Avis Buxton Child '52 helped give us some context for the photo we used for the last contest, which is simply labeled "sophomore cooking class 1921" in our archives. "The two women standing in front of the left-hand window are Flossie E. Buxton '24 and Alice T. Sisson (Buxton) from the same class," Child wrote. "They were both home economics majors. How do I know this? Alice was my mother, and Flossie was my aunt. Alice became Flossie's sister-law when she married Flossie's brother, Charles Buxton, who later became my father."
Other readers were reminded of phenomena as diverse as the Rhody Burger (a standout bacon hamburger before they became trendy, says Paul Karanfilian '73) and of how, during the late 1950s, home ec majors were kidded about going for their "MRS" degree (because they went from "Miss" to "Mrs.," explains Deanna DiBiasio Wright '60). Cookie pushers or not, "These ladies stirred it up for women of the future in the fields of teaching, food and nutrition, textiles and clothing, and child care, to name a few," adds Wright.
Other readers riffed on delightfully Rhody-centric themes like Allie's Donuts and clam cakes. We enjoyed them all. •
—Pippa Jack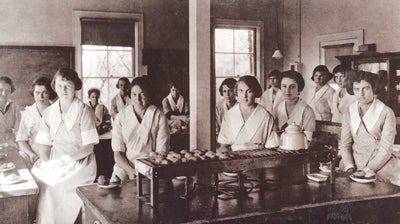 Winning caption:
"As always, URI was decades ahead, with the very first episode of Cupcake Wars."
– Kathy Ojeda '81
Runner Up:
"Meanwhile, at Pastore Hall, the Princess Leia Fan Club prepares for its annual bake sale." (With apologies to the late, great Carrie Fisher.)– Dan Brown '94
Two Honorable Mentions:
"Oh, so now you tell us you are allergic to garlic." – John A. Daley '89
"Hey, if you had to Bunsen burner your muffin and coffee everyday, you would not be smiling either. The three who are smiling are new." – David Singer '90