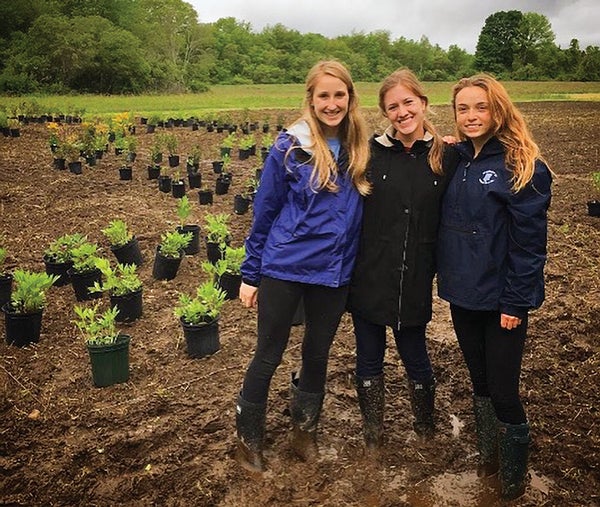 Native species is potential crop pollinator
Carpenter bees are among the largest bees in the Northeast, and since they burrow into wood—including houses—they have a bad reputation. But they're also important native pollinators, so Becky Gumbrewicz '19 decided to take a closer look.
Carpenter bees are so large they sometimes cannot get their head far enough into flowers to collect nectar. So in a strategy called nectar robbery, they slit the side of the flowers to feed on the nectar without pollinating the flowers. Gumbrewicz  and her team—including graduate student Sara Tucker and Plant Sciences and Entomology Professor Steven Alm—wanted to see if the strategy had any negative implications for local blueberry crops.
"We know that carpenter bees are managed similarly to honey bees in Brazil and the West Indies to pollinate passion fruit, and in other parts of the world to pollinate eggplant, tomatoes and many types of flowers," Gumbrewicz said. "We were looking to see if they are also beneficial to blueberry growers. If so, small farmers could use them instead of bringing in expensive honey-bee hives."
The research team collected 33,000 flowers that had fallen from blueberry bushes and conducted a wide variety of measurements to determine whether there was a correlation between flower size—blueberry flowers are small—and whether the bees used the nectar robbery strategy. She found that about 34 percent of the blueberry flowers she collected had slits in their side indicating a bee had robbed the flower of nectar.
"But when we looked at the weight of the berries that developed from slit flowers and measured their sugar content, we found that there wasn't a significant difference from fruit which developed from unslit flowers," she said. "The slitting didn't seem to have a detrimental effect on fruit yield. So the bees don't harm the harvest—and they do benefit the pollination." •