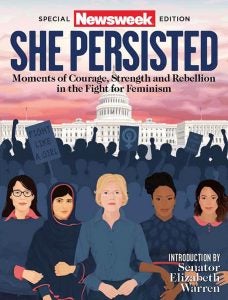 Narya Marcille '05 turned feminism into art, and in the process, scored a career high when she designed the cover for a January edition of Newsweek.
Her illustration features five of the women profiled in the Newsweek special issue "She Persisted: Moments of Courage, Strength and Rebellion in the Fight for Feminism."
"This was a huge opportunity for me," says Marcille. "I'm eager to see what comes next."
Her cover is reminiscent of a poster she created for the Women's March on Washington last year after she reluctantly decided that, with a newborn, she couldn't make the trip. That image went viral on Facebook, was requested by the Library of Congress for its permanent archives, and hangs in the office of Supreme Court Justice Ruth Bader Ginsberg, one of the women depicted in it. A Newsweek editor saw the poster and liked it so much he asked Marcille to design the "She Persisted" cover.
Landing the job was a coup for Marcille, 35, a stay-at-home mom in North Smithfield who works as a freelance graphic designer while taking care of her two young children.
The Newsweek cover depicts the five women, all linking arms in front of the U.S. Capitol Building in Washington D.C. They are Massachusetts Senator Elizabeth Warren; Ellen Pao, former interim C.E.O. of Reddit who rattled patriarchal Silicon Valley when she filed a gender discrimination suit against her employer—a powerful venture capital firm; Malala Yousafzai, a Pakastani education and women's rights advocate who, at the age of 17, became the youngest person to win the Nobel Prize after surviving an assassination attempt by the Taliban; Chimamanda Ngozi Adichi, a Nigerian novelist and feminist; and Gina Rodriguez, an American actress of Puerto Rican descent best known for her role in the comedy-drama series Jane the Virgin.
Steven Charny, art director for Topix Media, which publishes Newsweek's special editions, chose the women he wanted on the cover; Marcille worked for a week on the illustration, including an all-nighter on Christmas. More than 500,000 copies of the issue were printed.
"We're at an age when women are being celebrated," Marcille says. "It's thrilling."