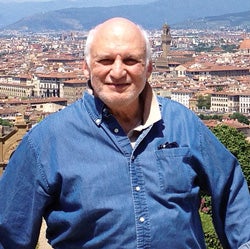 A neighborhood with 350-year-old houses is razed to make way for urban development, and decades later the imagination soars: What in the heck did those houses look like, centuries ago?
A professor and his students have the answer, thanks to a very 21st century tool: 3-D printing that allows viewers to see the houses and neighborhoods as they existed long ago.
"Virtual House, Virtual Neighborhood" is the brainchild of Art History Professor Ronald J. Onorato, and the reason he is the inaugural winner of The Winnie, a URI grant named after Winifred Brownell, former dean of the College of Arts and Sciences and a loyal supporter of the arts. It resurrects a 17th century house and neighborhood in Newport, Rhode Island.
The neighborhood—four city blocks framed by Marlborough, Thames, Farewell and Broadway streets—was demolished in the 1960s for parking lots. Only a few historic buildings remain, including St. Paul's Methodist Church, the White Horse Tavern, and the former Newport County Jail.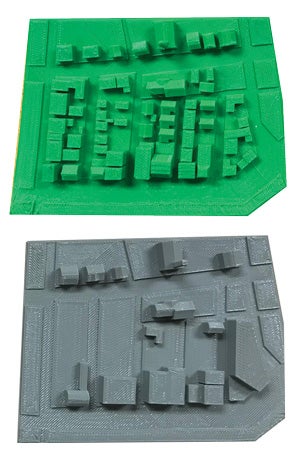 Onorato, chair of URI's Department of Art and Art History, says the project explores new ground in how preservationists can analyze and, ultimately, recreate historic neighborhoods.
"This is another way of thinking about preservation, using traditional research methods and new imaging techniques to reimagine a place that no longer exists," says Onorato. "Our project is important, too, because it's a case study of what happened to an important early neighborhood that got destroyed—eradicated really."
The seed for the project was planted last summer when Onorato discovered the Newport Restoration Foundation archives contained drawings of a 17th century house at the corner of Marlborough and Meeting streets.
Onorato and his team of current and former URI students recreated the 17th century house, a timber-frame post-and-beam with an outside hearth that doubled as a wall. "It's an important and very typical 17th century building that has all but disappeared from the important architectural context of Newport," Onorato says.
They are also reconstructing the neighborhood that surrounded the house some 125 years ago. At its peak, the neighborhood—a mix of craftsmen, Italian immigrants and rich Newport families—boasted 50 to 60 buildings. Today, fewer than 20 are left, but their traces remain in land evidence records, old civic and commercial maps, drawings and early photographs.
This spring, Onorato's students will also try to identify the men, women and children who lived in the houses, as well as the blacksmiths, tailors and other craftsmen who plied their trades in the shops. Students will use old city directories and census reports to identify names and, if possible, animate family stories.