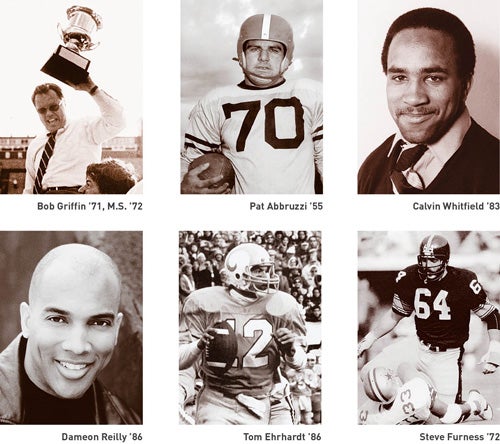 On October 5 at Brown University, in conjunction with the thousandth football game in program history the URI Athletics Department announced the members of the Fans' Choice Rhody Grand Team. The squad, chosen by fans in a series of polls on GoRhody.com throughout the summer, consists of the 50 greatest players in program history, along with legendary head coach Bob Griffin '71, M.S. '72. Running back Pat Abbruzzi '55—who played from 1951 through 1954—was the top vote getter at his position and remains the school's all-time leading rusher 59 seasons after his career with the Rams ended.
The Fans' Choice Rhody Grand Team list includes 14 players who earned a combined 37 All-American honors from various organizations. Quarterback Tom Ehrhardt '86, running back Joe Casey '09, tight ends Brian Forster '87 and Darren Rizzi '92, wide receiver Cy Butler '09, and linemen Dustin Bayer '05, Rich Pelzer '83, and Bob White '56 earned All-American honors on the offensive side of the ball. Rizzi—now the special teams coordinator for the Miami Dolphins—earned a combined nine All-American honors from seven different organizations, the most for any player in school history.
Defensively, linemen Tony DeLuca '84, Lou D'Agostino '96, and Frank Ferrara '99 were recognized as All-Americans during their careers, as were defensive backs Mike Cassidy '86, Lance Small '02 and Kevin Smith '91.
Four members of the Fans' Choice Rhody Grand Team also were selected in 1996 to the Yankee Conference 50th Anniversary Team. Forster, Smith, defensive lineman Steve Furness '72, and offensive lineman Jeffrey Williams '77 are all considered among the best players in the history of the Yankee Conference.