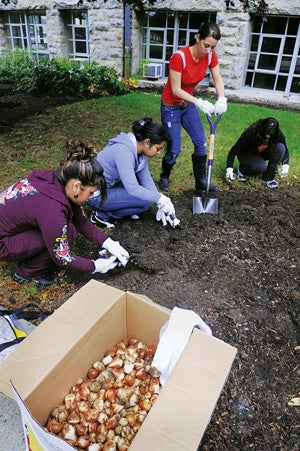 With spades and enthusiasm, about 175 freshmen established their roots this October by helping plant 5,000 tulip, narcissus, and other spring bulbs around the Quad and nearby locations. The freshmen and another 50 community volunteers dug, weeded, raked, and mulched. It was all part of the first "URI Gives Back Day."
The first-year students are enrolled in URI 101, a required course supported by the Feinstein Enriching America Program, which introduces all first-year students to the traditions of higher education and academic culture, as well as significant societal and personal issues that influence their college experience. The course provides students with the opportunity to serve the community with their peers and reflect upon that experience.
Through URI 101, 75 classes composed of more than 1,350 freshmen engaged in service during October.
"Social responsibility and community engagement start at home, and we hope that URI Gives Back Day will be an annual opportunity for our community to come together and make a beautiful and lasting impact," said Jayne Richmond, dean of University College.
The planting is made possible through the generous support of Robert Weygand '71, '76, vice president for Administration and Finance, the Feinstein Center for Service Learning, URI Lands and Grounds Department, and Washington Trust Co. The bank donated thousands of daffodil bulbs in 1991 to help URI celebrate its Centennial. Those daffodils still bloom today. The addition of these new bulbs will create an even more stunning spring display.