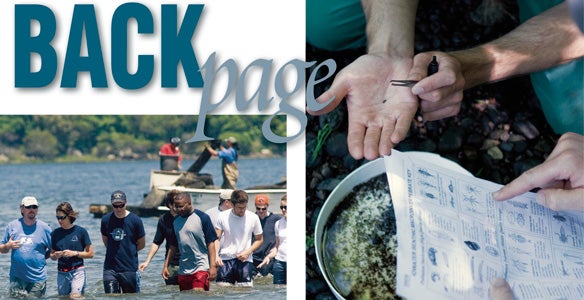 Did you know that more than 260 journalists from around the U.S. and several foreign countries have participated in programs run by The Metcalf Institute for Marine and Environmental Reporting, based at the Office of Marine Programs at URI's Graduate School of Oceanography? The Metcalf Institute, named in honor of Michael P. Metcalf, the late publisher of The Providence Journal, exposes journalists to the basic science underlying environmental news to improve the accuracy and clarity of science-based reporting.
Celebrating its 10th year, the Institute has built an international reputation for providing reporters and editors with opportunities to improve their craft by learning first-hand about science and the research process.
Its annual Science Immersion Workshop for Journalists provides 10 reporters from around the world with an intensive, one-week experience examining the connections between scientific research and public policy. Reporters engage in field and laboratory research with URI scientists, graduate students, and policy experts, gaining hands-on knowledge about pressing environmental issues. The Institute also features leading journalists and scientists in a concurrent public lecture series each June.
Since 2001, the Institute has administered an annual fellowship program for early-career minority journalists who come to campus each September for a month-long exposure to marine and environmental research. Afterwards, they are placed in newsrooms around the country—including The Christian Science Monitor, Los Angeles Times, CNN, and Minnesota Public Radio—for nine months of environmental reporting.
In 2005, the Metcalf Institute launched the Grantham Prize for Excellence in Reporting on the Environment to recognize exemplary reporting on environmental issues in North America. The $75,000 award is the largest journalism cash prize in the world. The winning reporters have worked at The Record in Bergen County, N.J. (2006), The Los Angeles Times (2007), and The New York Times (2008).
By Todd McLeish